SEKEM is a producer, processor and marketer of organic products with various public initiatives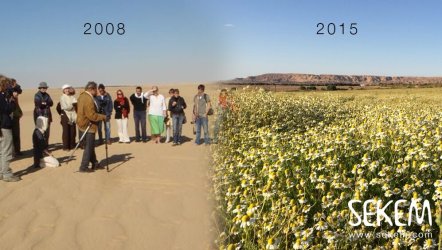 ENVIRONMENTAL:
Environmental awareness
Increased environmental stewardship
ECONOMIC:
Alternative revenue streams
Increased competitiveness
Increased Financial Capital
Increased value creation
Job creation
New markets
Stimulating innovation
SOCIAL:
Developing Social Capital in partnership with others (ie families, communities, businesses, trade unions, educational, voluntary organisations)
Increased contacts among people
Increased emergency preparedness
Increased employment
Increased Human Capital - people's health, knowledge, skills and motivation
Increased local pride
Increased local resilience
New community space
LOCATION CONTEXT:
not applicable
FUTURE POTENTIAL:
Scaleable, Networkable
FACET
Agriculture, Bio-economy, Built Environment, Community, Education, Health & Wellbeing, Logistics, Manufacturing, Material Flows, Networks & Hubs
LEVEL:
Macro - Cities, Regions, Nations, Meso - Network, Cluster & Eco-Industrial Parks, Micro - Company/Organisation
STAKEHOLDERS:
Citizen, Financial Sector, Knowledge Sector, Public Sector, Third Sector
BUSINESS MODEL:
B2C - Business to Consumer, B2G - Business to Government, P2P - Peer to Peer
| | | |
| --- | --- | --- |
| Founded | 01/1977 | |
| SEKEM Herbs&NGO establishment | 01/1983 | |
| Products ISO 9001 certified | 01/1997 | |
| Luxembourg Peace Prize | 01/2018 | |
CONCEPT:
SEKEM is a producer, processor and marketer of organic products with various public initiatives
SEKEM Initiative was founded with the vision of sustainable development and giving back to the community. It aims to develop the individual, society and environment through a holistic approach which integrates ecology, economy, societal and cultural life. Today, the vision that brought Dr. Ibrahim Abouleish to dig the first well in the vast desert land still resounds in all of SEKEMs activities.  Like a compass, our vision, mission and values guide us in the everyday work in all SEKEM institutions.
In 1977, Dr. Ibrahim Abouleish started the SEKEM Initiative on an untouched part of the Egyptian desert (70 hectares) 60 km northeast of Cairo. Using Biodynamic agricultural methods, desert land was revitalized and a striving agricultural business developed. Over the years, SEKEM became the umbrella of a multifaceted agro-industrial group of companies and NGOs, including different educational institutions and a Medical Center. Today, SEKEM is regarded as a leading social business worldwide.
In 2003, the Schwab Foundation awarded Dr. Abouleish as one of the world's outstanding Social Entrepreneurs. That same year, SEKEM and Dr. Abouleish received the prestigious "Right Livelihood Award", also known as the Alternative Nobel Prize. The awarding committee stated that "SEKEM demonstrates how a modern business model combines profitability and success in world markets with a humane and spiritual approach to people while maintaining respect for the environment."
SEKEM was founded with the idea of sustainable development and the aim to build a prosperous future for the surrounding communities and Egypt. Through a holistic approach that includes the four dimensions of economy, ecology, cultural and societal life, SEKEM strives to truly implement sustainability. This holistic concept guides SEKEM and all its institutions like a compass in the everyday work. Supported by the SEKEM Sustainability Flower, the Initiative yearly monitors its performance in the SEKEM Sustainability Report.
Sekem has developed a biodynamic farming model it hopes will provide an international example as well as producing carbon credits.  "Following our goal of 100% organic agriculture in Egypt by 2057 we created the "Demeter Carbon Credits", a methodology to incentivize and remunerate farmers in return for sustainable farming methods. More farmers being attracted to organic and biodynamic agriculture is one of the most effective steps towards tieing down carbon from the atmosphere to the soil and thus to stem climate change." 
LOCAL LANGUAGE DESCRIPTION:
-
الرؤية والمهمة
تأسست سيكم على فكرة التنمية المستدامة وتنمية المجتمع. لا تزال رؤية د. إبراهيم أبو العيش التي نتج عنها حفر أول بئر في الصحراء الشاسعة، كامنة في مبادرة سيكم ونهجها في ممارسة الأعمال التجارية. تقودنا رؤيتنا ومهمتنا ومبادئنا مثل البوصلة في أعمال شركات سيكم اليومية.
تاريخنا
في عام 1977 أسس د.إبراهيم أبو العيش مبادرة سيكم على 70 هكتار من الأرض البكر في صحراء مصر، 60 كم شمال شرق القاهرة. تم استصلاح أراض صحراوية وتطوير الأعمال الزراعية من خلال أساليب الزراعة الحيوية. على مر السنين، احتضنت مظلة سيكم متعددة الأوجه مجموعة من الشركات الصناعية والزراعية والمنظمات الغير حكومية والتي تتضمن مؤسسات تعليمية مختلفة ومركز طبي. تعد سيكم اليوم رائدة في الأعمال الاجتماعية بالعالم.
الجوائز
في عام 2003، لقب د. إبراهيم أبو العيش كواحد من أبرز الرياديين الاجتماعيين من قبل مؤسسة شواب Schwab Foundation. كما تلقت سيكم ود. إبراهيم أبو العيش في نفس العام جائزة رايت لايفليهود المرموقة والمعروفة أيضاً بجائزة نوبل البديلة. أقرت لجنة التحكيم تقديم سيكم لمثال حديث لإدارة الأعمال يجمع ما بين الربحية النجاح في الأسواق العالمية بمقاربة إنسانية وروحانية تضمن احترام البيئة.
الاستدامة وتقارير الاستدامة
تأسست سيكم بناءً على فكرة التنمية المستدامة وبهدف بناء مستقبل مزدهر للمجتمعات المجاورة ولمصر. تطمح سيكم في تطبيق الاستدامة بصورة كاملة من خلال النهج الشمولي المتضمن الأبعاد الأربع: البعد الاقتصادي والبيئي والاجتماعي والثقافي. يقود المبدأ الشمولي سيكم وكل مؤسساتها مثل البوصلة في كل الأعمال اليومية. تقيس المبادرة أدائها سنوياً من خلال تقرير الإستدامة وفقاً لزهرة سيكم للاستدامة.
طورت سيكم نموذجا للزراعة الحيوية تأمل أن يقدم مثالا دوليا بالإضافة إلى إنتاج أرصدة الكربون.  "بعد هدفنا المتمثل في الزراعة العضوية بنسبة 100 ٪ في مصر بحلول عام 2057 ، أنشأنا "أرصدة الكربون ديميتر" ، وهي منهجية لتحفيز المزارعين ومكافأتهم مقابل أساليب الزراعة المستدامة. المزيد من المزارعين الذين ينجذبون إلى الزراعة العضوية والحيوية هي واحدة من أكثر الخطوات فعالية نحو ربط الكربون من الغلاف الجوي إلى التربة وبالتالي وقف تغير المناخ."