Muuse – Reuse Market Place
Muuse is a smart universal circular system enabling reusable packaging as a service to B2B and B2C clients to reduce their single use waste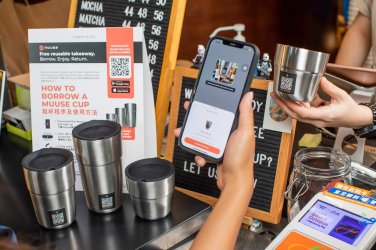 ENVIRONMENTAL:
Environmental awareness
Increased environmental stewardship
Increased resource utilisation
Preserving Natural Capital - stocks & flows of energy and material
Reduced emissions
Reduced waste
ECONOMIC:
Alternative revenue streams
Increased competitiveness
Increased Financial Capital
Increased Manufactured Capital - material goods or fixed assets which contribute to the production process rather than being the output itself
Increased value creation
Job creation
New markets
Reduced economic pressure
Reduced spending
Stimulating innovation
SOCIAL:
Improved wellbeing
Increased access to services/products
Increased employment
Increased Human Capital - people's health, knowledge, skills and motivation
Increased inclusion
Increased local pride
Increased local resilience
Increased quality of life
New community space
LOCATION CONTEXT:
Rural, Urban
FUTURE POTENTIAL:
Scaleable
FACET
Community, Design, Food & Drink, Logistics, Material Flows, Networks & Hubs, Product-as-a-Service, Reuse, Sharing, Supply Chain, Waste Management
LEVEL:
Macro - Cities, Regions, Nations, Meso - Network, Cluster & Eco-Industrial Parks, Meta - Global, Micro - Company/Organisation, Nano - User, Product, Component & Material
STAKEHOLDERS:
Citizen, Knowledge Sector, Private Sector, Public Sector
BUSINESS MODEL:
B2B - Business to Business, B2C - Business to Consumer, B2G - Business to Government, P2P - Peer to Peer
TECHNOLOGY:
Big Data, Cloud, EdTech, Networks, Sensors, SmartCity, Transport/Drones
| | | |
| --- | --- | --- |
| 2018 | | The initiative started first in Indonesia in 2018. |
| 2021 | | First launch in Toronto in 2021. |
TITLE:
Muuse - Reuse Market Place
CONCEPT:
Muuse is a smart universal circular system enabling reusable packaging as a service to B2B and B2C clients to reduce their single use waste
The Mu(ltiple)use system eliminates friction for the flow of reusable packaging – to manufacturers, distributors, retailers and consumers. Each point in the value chain enjoys efficient transfer of goods while ensuring a trusted chain of custody for packaging assets. The highly agile platform can accommodate various packaging types (universal vs customized), logistical flow, and has both B2B and B2C facing applications.
LOCAL LANGUAGE DESCRIPTION:
English