Making Sustainable Products the Norm in Europe
Brussel, Bruxelles, Belgium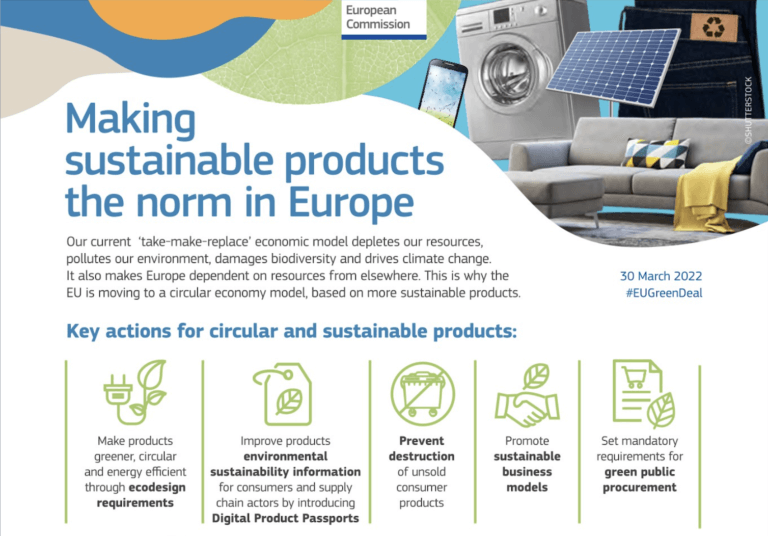 Type:
G2B - Government to Business
G2C - Government to Consumer
FACET:
Design
Education
Electronics
Manufacturing
Material Flows
Plastic
Procurement
Recycling
Remanufacturing
Repair
Reuse
Supply Chain
Textiles
Waste Management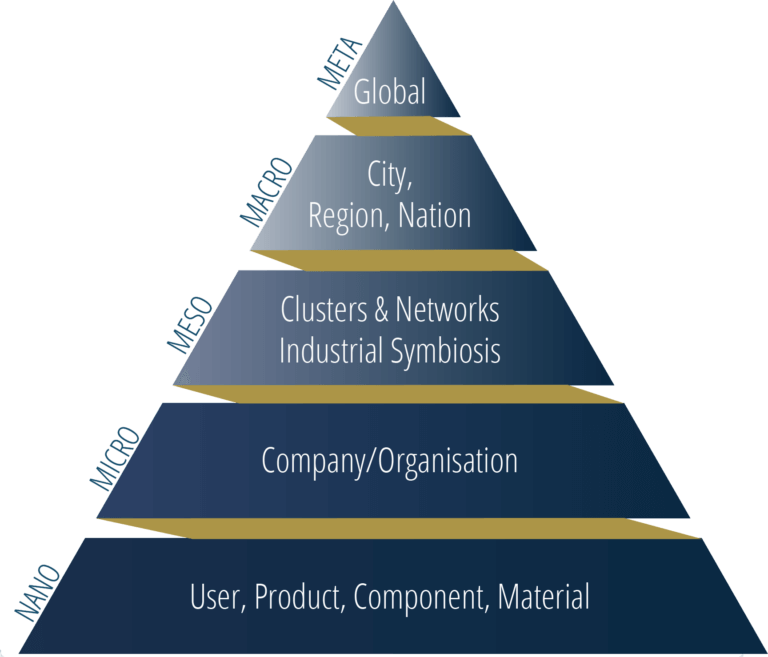 SOCIETAL READINESS LEVEL & POTENTIAL
| | | |
| --- | --- | --- |
| Implementation | | |
TITLE:
Making Sustainable Products the Norm
Designing more sustainable, circular and energy performing products
The proposed Ecodesign for Sustainable Products Regulation (ESPR) is the cornerstone of the Commission's approach to more environmentally sustainable and circular products. It establishes the framework for setting ecodesign requirements for specific product categories to significantly improve their circularity, energy performance and other environmental sustainability aspects. It builds on the proven effectiveness of the Ecodesign Directive in relation to energy-related products and will enable minimum ecodesign and information requirements to be set for almost all categories of physical goods placed on the EU market . For groups of products that share sufficient common characteristics, horizontal rules can be set. These ecodesign requirements will be tailored to the particular characteristics of the product groups concerned. Their identification and development will factor-in the potential for improvement and relative effectiveness in delivering increased resource and energy efficiency, enabling longer product life and maximising the value embedded in materials, reducing pollution and the overall impact of products on climate and the environment.
The ecodesign requirements will, as appropriate for the product categories to be regulated, cover:
product durability, reliability, reusability, upgradability, reparability, ease of maintenance and refurbishment;
restrictions on the presence of substances that inhibit the circularity of products and materials;
energy use or energy efficiency of products;
resource use or resource efficiency of products;
minimum recycled content in products;
ease of disassembly, remanufacturing and recycling of products and materials;
life-cycle environmental impact of products, including their carbon and environmental footprints;
preventing and reducing waste, including packaging waste.
Helping businesses and consumers to make more informed choices
In addition to setting requirements on how products should be made, the Ecodesign for Sustainable Products Regulation (ESPR) is also a framework to set requirements to provide information on the environmental sustainability of products. Depending on the product concerned, this can include information on energy use, recycled content, presence of substances of concern, durability, reparability, including a reparability score, spare part availability and recyclability. Digital product passports will be the norm for all products regulated under the ESPR, enabling products to be tagged, identified and linked to data relevant to their circularity and sustainability. Pioneering this approach for environmental sustainability data can also pave the way for wider voluntary data sharing, going beyond the products and requirements regulated under the ESPR. Moreover, product passports may be used for information on other sustainability aspects applicable to the relevant product group pursuant to other Union legislation.
LOCAL LANGUAGE DESCRIPTION:
Français
Concevoir des produits plus durables, circulaires et performants énergétiquement
La proposition de règlement sur l'écoconception pour des produits durables (ESPR) est la pierre angulaire de l'approche de la Commission en faveur de produits circulaires et plus durables sur le plan environnemental. Il établit le cadre pour la fixation d'exigences d'écoconception pour des catégories de produits spécifiques afin d'améliorer considérablement leur circularité, leur performance énergétique et d'autres aspects de durabilité environnementale. Elle s'appuie sur l'efficacité avérée de la directive sur l'écoconception en ce qui concerne les produits liés à l'énergie et permettra de fixer des exigences minimales en matière d'écoconception et d'information pour presque toutes les catégories de biens physiques mis sur le marché de l'UE . Pour les groupes de produits partageant suffisamment de caractéristiques communes, des règles horizontales peuvent être définies. Ces exigences d'écoconception seront adaptées aux caractéristiques particulières des groupes de produits concernés. Leur identification et leur développement tiendront compte du potentiel d'amélioration et de l'efficacité relative de l'amélioration de l'efficacité des ressources et de l'énergie, de la prolongation de la durée de vie des produits et de la maximisation de la valeur intégrée aux matériaux, de la réduction de la pollution et de l'impact global des produits sur le climat et l'environnement.
Les exigences d'écoconception couvriront, selon les catégories de produits à réglementer :
la durabilité, la fiabilité, la réutilisabilité, l'évolutivité, la réparabilité, la facilité d'entretien et de remise à neuf des produits ;
restrictions sur la présence de substances qui inhibent la circularité des produits et des matériaux ;
la consommation d'énergie ou l'efficacité énergétique des produits ;
l'utilisation des ressources ou l'efficacité des ressources des produits ;
contenu recyclé minimum dans les produits ;
facilité de démontage, de refabrication et de recyclage des produits et des matériaux ;
l'impact environnemental des produits tout au long de leur cycle de vie, y compris leurs empreintes carbone et environnementale ;
prévenir et réduire les déchets, y compris les déchets d'emballage.
Aider les entreprises et les consommateurs à faire des choix plus éclairés
En plus de fixer des exigences sur la façon dont les produits doivent être fabriqués, l'écoconception pour Le règlement sur les produits durables (ESPR) est également un cadre pour fixer des exigences pour fournir des informations sur la durabilité environnementale des produits. Cela dépend de le produit concerné, cela peut inclure des informations sur la consommation d'énergie, le contenu recyclé,
présence de substances préoccupantes, durabilité, réparabilité, y compris un score de réparabilité, disponibilité et recyclabilité des pièces de rechange.
Les passeports de produits numériques deviendront la norme pour tous les produits réglementés en vertu de la
ESPR, permettant aux produits d'être étiquetés, identifiés et liés à des données pertinentes pour leur circularité et durabilité. Pionnier de cette approche pour la durabilité environnementale les données peuvent également ouvrir la voie à un partage volontaire plus large des données, allant au-delà des produits et les exigences réglementées par l'ESPR. De plus, des passeports de produits peuvent être utilisés
pour obtenir des informations sur d'autres aspects de durabilité applicables au groupe de produits concerné conformément à d'autres actes législatifs de l'Union.
MATERIALS & CERTIFICATIONS
| | |
| --- | --- |
| | |
| | |
| --- | --- |
| | |
data related to
can be used to
Unit of measure
Data-sharing

Positive Impact
, Negative Impact
, Emissions
, Consumption
, Waste
, Repairs
, Utilisation/Product durability
, Materials (content/recyclability)
, Traceability

Describe - What happens

Across Value Network
, Consumers/Users
CIRCULAR INITIATIVE
CASE STUDY