The city of Umeå works actively to make residents choose more sustainable modes of transport. By introducing a rental system of electric cargo bikes, we allow the residents to discover and test a way
Umeå, Västerbotten, Sweden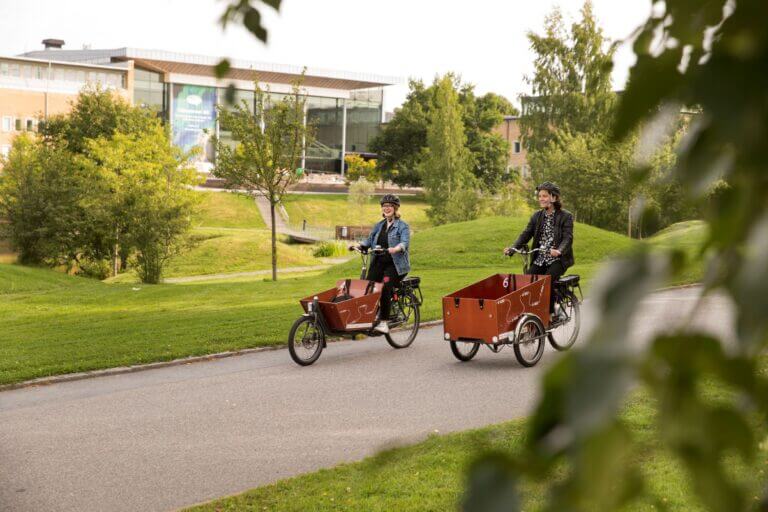 Type:
G2B - Government to Business
G2C - Government to Consumer
G2G - Government to Government
BUSINESS MODEL FORMAT:
Rental (short term)
Membership
Sharing
Product Type(s):
Sports / Recreation
Vehicle / boat / trailer
Electrified cargo bikes
FACET:
Health & Wellbeing
Mobility
Product-as-a-Service
Sharing
Sports & Recreation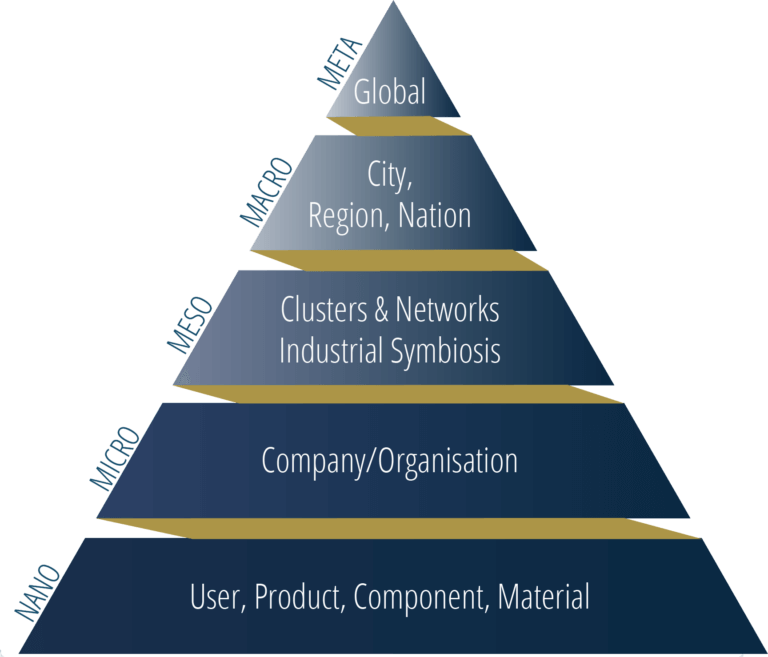 SOCIETAL READINESS LEVEL & POTENTIAL
| | | |
| --- | --- | --- |
| Opening of the first garage | 09/2017 | Campus |
| Opening of the second garage | 09/2018 | Umeå city centre |
CONCEPT:
The city of Umeå works actively to make residents choose more sustainable modes of transport. By introducing a rental system of electric cargo bikes, we allow the residents to discover and test a way
One of Umeå municipality's environmental goals is that by 2025, 65% of all travels within the urban area will take place with one of the sustainable modes of transport. To achieve that goal, alternatives to the car are required and U-bikes play an important role there. In the autumn of 2017, Umeå municipality launched a service where residents can easily borrow electrified cargo bikes, U-bikes. There are a total of 16 cargo bikes distributed in two garages, one in the city centre of Umeå and the other on the university campus. A membership costs SEK 80 per month and until today, the service has been tested by over 600 citizens. One of the purposes of U-bike is that those who are considering buying their own cargo bike should be able to test themselves on which model is best suited based on need. Therefore, we have three different box bike models and according to the latest evaluation, 40% of users are considering buying their own box bike.There are clear climate benefits with U-bike. The members state in the evaluations that the cargo bikes are mainly used for shopping, excursions, for leisure activities and for trips to the recycling station. Some of the members use the cargo bikes when moving smaller household items. Ideal for students who, for example, do not have to rent a car when it is time to change accommodation.Many families with children use U-bike, which gives a better understanding of sustainable travel among the younger generation. The bicycles contribute to a more pleasant urban environment with less noise and emissions, while at the same time being a health-promoting way of traveling. U-bike shows many children and adults that the car does not have to be the norm for travel within the urban area, the changeover is easier than you think.The latest evaluation of U-bike was conducted in December 2020 and went out to everyone who has been a member at some point in the past year, about 450 people. 107 of these responded to the survey. When asked if a cargo bike pool in the immediate vicinity of the home can replace car ownership, almost half answered yes. Therefore, we have now compiled the experiences of running a U-bike in a report to communicate to housing builders, property developers, other municipalities etc.Many of the trips and errands performed with the cargo bikes would probably be carried out even if the U-bike did not exist. But not in a climate-friendly way.
LOCAL LANGUAGE DESCRIPTION:
Svenska
Ett av Umeå kommuns miljömål är att år 2025 ska 65% av alla resor inom tätorten ske med något av de hållbara färdsätten. För att nå det målet krävs alternativ till bilen och där spelar U-bike en viktig roll. Hösten 2017 lanserade Umeå kommun en tjänst där invånarna enkelt kan låna eldrivna lådcyklar, U-bike. Totalt finns det 16 lådcyklar fördelade på två garage, ett i centrala Umeå och det andra på universitetsområdet. Ett medlemskap kostar 80 kr per månad och fram till idag så har tjänsten testats av över 600 personer. Ett av syftena med U-bike är att de som funderar på att köpa en egen lådcykel ska kunna testa sig fram till vilken modell som passar bäst utifrån behov. Därför har vi tre olika lådcykelmodeller och enligt den senaste utvärderingen funderar 40% av användarna på att köpa en egen lådcykel.
Det finns tydliga klimatvinster med U-bike. Medlemmarna uppger i de utvärderingar som genomförts att lådcyklarna främst används vid storhandling, utflykter, till fritidsaktiviteter samt till återvinningen. De finns t.o.m. de som använder lådcyklarna vid flytt av mindre bohag. Perfekt för exempelvis studenter som slipper hyra en bil när det är dags att byta boende.
Många barnfamiljer använder U-bike vilket ger en bättre förståelse för hållbart resande hos den yngre generationen. Cyklarna bidrar till en trevligare stadsmiljö med mindre buller och utsläpp samtidigt som det är ett hälsofrämjande sätt att färdas på. U-bike visar många barn och vuxna att bilen inte måste vara norm för resor inom tätorten, omställningen är lättare än man tror.
Den senaste utvärderingen genomfördes i december 2020 och gick ut till alla som varit medlemmar någon gång under det senaste året, ca 450 personer. 107 av dessa svarade på enkäten. På frågan om en lådcykelpool i direkt närhet till hemmet kan ersätta bilägande svarade nästan hälften ja. Därför har vi nu sammanställt erfarenheterna kring att driva U-bike i en rapport för att kommunicera till bostadsbyggare, fastighetsutvecklare, andra kommuner mm.
Många av de resor och ärenden som utförs med lådcyklarna skulle förmodligen genomföras även om U-bike inte fanns. Fast inte på ett klimatvänligt sätt.
MATERIALS & CERTIFICATIONS
| | |
| --- | --- |
| | |
| | |
| --- | --- |
| | |
data related to
can be used to
Unit of measure
Data-sharing

Positive Impact
, Repairs
, Motivations
, Utilisation

Describe - What happens
, Diagnose - Why it happens

Number
, Percentage
, % of people
CASE STUDY MAPPING SOURCE:
CIRCULAR INITIATIVE
CASE STUDY