Empowering you to take climate action by eating bread and drinking beer. Instead of disposing food by-products, we upcycle and feed people instead.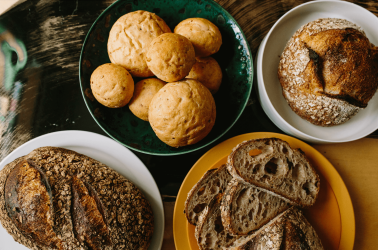 ENVIRONMENTAL:
Environmental awareness
Increased resource utilisation
Reduced emissions
Reduced waste
ECONOMIC:
Alternative revenue streams
Increased competitiveness
Increased value creation
Job creation
New markets
SOCIAL:
Developing Social Capital in partnership with others (ie families, communities, businesses, trade unions, educational, voluntary organisations)
Increased local resilience
FUTURE POTENTIAL:
Scaleable, Replicable, Networkable
FACET
Food & Drink, Remanufacturing, Social Enterprise
LEVEL:
Micro - Company/Organisation, Nano - User, Product, Component & Material
STAKEHOLDERS:
Fourth Sector, Private Sector
BUSINESS MODEL:
B2B - Business to Business, B2C - Business to Consumer
| | | |
| --- | --- | --- |
| Sold 218,495 Loaves of Bread | 10/2022 | |
| Diverted 8.6 Tonnes C02e | 10/2022 | |
| Support 24+ Local Businesses | 10/2022 | |
| New Jobs: 10 FTE | 10/2022 | |
TITLE:
The Spent Goods Company
CONCEPT:
Empowering you to take climate action by eating bread and drinking beer. Instead of disposing food by-products, we upcycle and feed people instead.
The Spent Goods Company works with organizations to re-imagine food waste, reducing their expenses and carbon footprint while generating new revenue sources.
Whether it's to make corrugated cardboard from spent grains or transforming day old bread into beer by diverting organic waste from the landfill,  we can help you to reduce your climate change impact.
Most recently, we worked with craft breweries to transform their leftover barley grains (aka spent grains) into revenue generating food products that is sold as part of their menu to their customers, made from their own spent grains (which they used to pay to dispose of).
Beer->Bread
We developed the Beer Bread, a delicious artisan sourdough bread made in Toronto with spent grains from Henderson's Brewery. (Have you read our Beer Bread reviews yet? BlogTO considers it the latest bread craze!)
While the bread doesn't use a ton of spent grains, it's a great conversation starter amongst end consumers around the topic of food waste. End consumers have an alternative product that allows them to vote with their wallet for the change they want to see in the world.
74% of Canadians have eco-anxiety, a growing worry about the impact of climate change ranging from a sense of helplessness to questioning whether they should procreate out of concern for the world their children will inherit.
Our solutions like Beer -> Bread, Barley milk, mushroom based home insulation help consumers and businesses to directly address eco-anxiety, food waste, food insecurity, and climate change through the food they consume on a daily basis.
We enable any food producing business to cost effectively incorporate viable food by-products that are typically discarded, turning them into "upcycled" foods (aka spent goods) while addressing food safety, consumers' emotional needs as well as business financials, as a(n):
Product Innovator
We focus on industrial food by-products (not household) in urban areas and find innovative ways to transform them into value
Ecosystem for businesses
Through relationship building and online tools, we are building an ecosystem where outputs from certain businesses become inputs for others
Sales and distributor
We curate food producers that incorporate viable food by-products to highlight their delicious foods to the foodie masses.
Educator
We assure Canadians that upcycled food is delicious and food safe, while nudging behaviour that directly reduces food waste and climate change.
Organic Lifestyle
 – Live more naturally, 
without
 exposure to everyday carcinogens at home.
LOCAL LANGUAGE DESCRIPTION:
-