Stanley Black & Decker Makerspace & Tool Library
Stanley Black & Decker, the world's largest tool company, offers an in-house makerspace and "tool library" where employees can complete projects and borrow the latest tools and equipment
Towson, Maryland, United States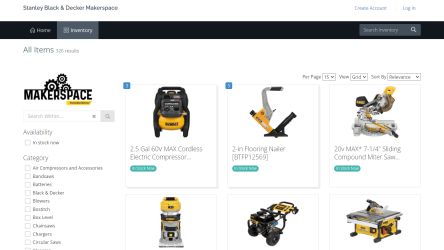 ENVIRONMENTAL:
Increased resource utilisation
Reduced emissions
Reduced waste
ECONOMIC:
Alternative revenue streams
Increased competitiveness
Increased value creation
SOCIAL:
Increased access to services/products
Increased local resilience
FUTURE POTENTIAL:
Replicable
FACET
Logistics, Product-as-a-Service, Reuse, Sharing
LEVEL:
Micro - Company/Organisation
STAKEHOLDERS:
Private Sector
BUSINESS MODEL:
B2B - Business to Business, B2C - Business to Consumer
| | | |
| --- | --- | --- |
| Open Makerspace & Tool Library | 08/2017 | |
TITLE:
Stanley Black & Decker Makerspace &ampl; Tool
CONCEPT:
Stanley Black & Decker, the world's largest tool company, offers an in-house makerspace and "tool library" where employees can complete projects and borrow the latest tools and equipment
In 2017 Stanley Black & Decker had opened a Makerspace, a 4,500-square-foot workshop dedicated to helping Stanley Black & Decker employees bring innovative new ideas to life, as well as to serving as a resource for the Greater Baltimore community to engage in meaningful maker experiences.
Stanley Black & Decker's new Makerspace creates a collaborative environment where company employees can develop new products, and offers local students and educators access to state-of-the-art resources to pursue research projects. Maryland's economy continues to be driven by innovation, and having cutting-edge workshops like this one is critical to growing jobs, spurring new advances, and helping our communities thrive.
LOCAL LANGUAGE DESCRIPTION:
English