Solving office furniture waste
Reuse of office furniture, equipment and supplies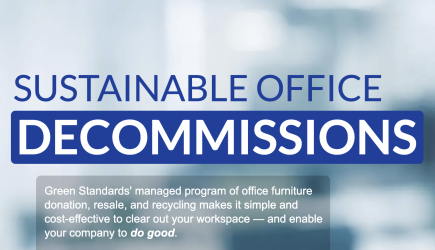 ENVIRONMENTAL:
Environmental awareness
Increased environmental stewardship
Increased resource utilisation
Preserving Natural Capital - stocks & flows of energy and material
Reduced emissions
Reduced waste
ECONOMIC:
Alternative revenue streams
Increased value creation
New markets
Reduced spending
SOCIAL:
Developing Social Capital in partnership with others (ie families, communities, businesses, trade unions, educational, voluntary organisations)
Increased access to services/products
Increased contacts among people
FUTURE POTENTIAL:
Scaleable, Replicable
FACET
Built Environment, Community, Logistics, Recycling, Remanufacturing, Repair, Reuse, Social Enterprise, Waste Management
LEVEL:
Macro - Cities, Regions, Nations, Meso - Network, Cluster & Eco-Industrial Parks, Micro - Company/Organisation
STAKEHOLDERS:
Private Sector, Third Sector
BUSINESS MODEL:
B2B - Business to Business, B2G - Business to Government
TECHNOLOGY:
Cloud, SmartCity
| | | |
| --- | --- | --- |
| 2009 | | |
TITLE:
Solving office furniture waste
CONCEPT:
Reuse of office furniture, equipment and supplies
Green Standards is a specialized environmental firm of project managers that works with corporations and government organizations to responsibly redistribute surplus office furniture, equipment and supplies.
Our goal is to make it simple for organizations to recover value, benefit community organizations, and divert waste from office decommissions, storage and other corporate real-estate projects.
To date, Green Standards has diverted 80,000+ tons of workplace furniture and equipment from landfill (a 98.6% diversion rate) and generated over $32M of in-kind donations to 5,500+ non-profits and communities across North America.
Now working with 26 of the Fortune100 companies, Green Standards has managed workplace decommission efforts on several of the largest corporate real estate portfolio modernizations/refreshes in history – often to the order of millions of sq ft and tens of thousands of employees' worth of furniture and equipment.
LOCAL LANGUAGE DESCRIPTION:
English