Connecting the community & reducing waste by sharing
Swaythling, Southampton, Great Britain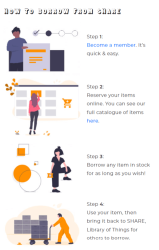 ENVIRONMENTAL:
Environmental awareness
Reduced waste
SOCIAL:
Developing Social Capital in partnership with others (ie families, communities, businesses, trade unions, educational, voluntary organisations)
Increased access to services/products
Increased employment
Increased inclusion
New community space
LOCATION CONTEXT:
not applicable
FUTURE POTENTIAL:
Replicable
FACET
Product-as-a-Service, Reuse, Sharing
LEVEL:
Nano - User, Product, Component & Material
BUSINESS MODEL:
B2C - Business to Consumer
| | | |
| --- | --- | --- |
| Founded | 01/2015 | |
| Volunteer program | 01/2017 | |
CONCEPT:
Connecting the community & reducing waste by sharing
The first of its kind, the idea for SHARE:Frome was born in early 2015, as a partnership between Frome Town Council, social enterprise Edventure, Sustainable Frome and the Cheese and Grain, the local music and events venue.
The motive behind the idea was to reduce the carbon footprint of the town, by enabling borrowing instead of buying new, reducing material production and landfill waste. This in turn would save members money and space in their homes, as well as providing a community space for people to donate, volunteer, connect and build skills.
In 2017, a new team of six Edventure students undertook the challenge of taking SHARE:Frome to the next level. With a revamp of the shop's layout, appearance and storage space, as well as the introduction of a new volunteer scheme and social referral programme, the students turned SHARE:Frome into an even more impactful community enterprise.
We have a wide range of items which can be useful and practical, but also fun and entertaining. These are our 10 categories:
Arts and Crafts– from sewing machines to glue guns
Baby and Children – from pushchairs to baby mobiles
Events – from projector screens to bunting
DIY – from drills to ladders
Gardening tools – from lawnmowers to hedge trimmers
Household and Garden – from vacuum cleaners to hammocks
Kitchen Equipment – from blenders to dehydrators
Leisure and Camping – from tents to metal detectors
Music, Media and Audio/Visual – from guitars to speakers
Sports and Games – from golf clubs to roller blades
View our full list of Things here: https://sharefrome.org/things/
LOCAL LANGUAGE DESCRIPTION:
English