Beer brewed from high-end local bakery food waste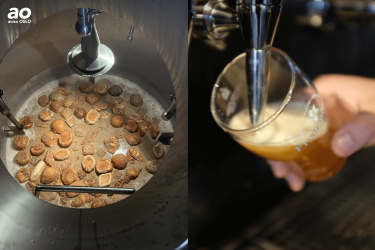 ENVIRONMENTAL:
Increased resource utilisation
Preserving Natural Capital - stocks & flows of energy and material
Reduced waste
ECONOMIC:
Increased competitiveness
Increased value creation
New markets
Stimulating innovation
SOCIAL:
Developing Social Capital in partnership with others (ie families, communities, businesses, trade unions, educational, voluntary organisations)
FUTURE POTENTIAL:
Scaleable, Replicable
LEVEL:
Micro - Company/Organisation, Nano - User, Product, Component & Material
STAKEHOLDERS:
Private Sector
BUSINESS MODEL:
B2C - Business to Consumer
| | | |
| --- | --- | --- |
| Pilot batch | 04/2022 | If it is successful, there may be mass production of the beer |
CONCEPT:
Beer brewed from high-end local bakery food waste
The breweries are under constant pressure to produce beer with new flavours. Now they have made Easter beer with croissants and pastries. 
Previously, Ringnes Brygghus has made bread from leftover malt from production. Now they have gone even further, with beer brewed on baked goods.
– We are constantly under pressure, and there is fierce competition for beer innovation. We are now experimenting at a high level, says Hans Petter Gramer, brand manager at Frydenlund.
"Saves" baked goods
It happens at Ringnes Brygghus in Thorvalds Meyers gate. Here they explore new flavors for their brands. If it is successful, there may be mass production of the beer.
When Frydenlund wanted to make this year's Easter beer, they wanted to try something completely new.
– We thought there had to be something with circular economy, Gramer says.
He points out that bread and baked goods are some of the things that households throw away the most.
According to Knowledge for Sustainable Social Development, groceries throw away 130,000 loaves of bread and baked goods daily. In addition, 170,000 is thrown at consumers.
– We got an idea to save baked goods from being thrown away, and use it in beer, says Øyvind Langgård who is brewmaster and general manager at Ringnes Brygghus.
Will not be large-scale production
He says that they went to the app "Too Good To Go" to order.
The app means that you can buy food that would otherwise have been thrown away, for a cheaper price.
They say that they have driven around all of Oslo to pick up the baked goods.
– We lost count of how much it was. We had a 20-liter bucket full of pastry and croissants which we poured into the beer production.
According to the brewmaster, it was a challenging beer production, and they also did not know anything about how the result would be.
– We did not know how it would taste, he says.
But beer with baked goods is nothing new.
– In the US, they make beer with cereals, donuts, cakes and the like. Americans drive "bigger, faster, stronger". We tried to keep it a little more down to earth by using baked goods.
Frydenlund is happy that food that would have been thrown away is now used as a product in the brewery.
– You associate Easter with buns and pastries, so it's a little fun, Gramer says.
But it will not be the large-scale production of the beer.
– Unfortunately, this does not come in stores, and is only served at Ringnes Brygghus, he says.
LOCAL LANGUAGE DESCRIPTION:
Norsk
Bryggeriene er under stadig press for å produsere øl med nye smaker. Nå har disse laget påskeøl med croissanter, wienerbrød og skolebrød.
Tidligere har Ringnes Brygghus laget brød på restmalt fra produksjonen. Nå har de gått enda lenger, med øl brygget på bakervarer.
– Vi er stadig under press, og det er hard konkurranse om øl-innovasjon. Nå eksperimenter vi på høyt nivå, sier Hans Petter Gramer, merkevaresjef hos Frydenlund.
«Redder» bakervarer
Det er hos Ringnes Brygghus i Thorvalds Meyers gate det skjer. Her utforsker de nye smaker for sine merkevarer. Blir det vellykket, kan det bli masseproduksjon av ølet.
Da Frydenlund ønsket å lage årets påskeøl, ville de prøve noe helt nytt.
– Vi tenkte det måtte være noe med sirkulærøkonomi, sier Gramer.
Han viser til at brød og bakervarer er noe av det husholdninger kaster mest.
Ifølge Kunnskap for bærekraftig samfunnsutvikling kaster dagligvare 130.000 brød og bakervarer daglig. I tillegg kastes 170.000 hos forbrukere.
– Vi fikk en idé om å redde bakervarer fra å bli kastet, og bruke det i ølet, sier Øyvind Langgård som er bryggmester og daglig leder hos Ringnes Brygghus.
Blir ikke storproduksjon
Han forteller at de gikk inn på appen «Too Good To Go» for å bestille.
Appen går ut på at man kan kjøpe matvarer som ellers ville blitt kastet, til en billigere penge.
De forteller at de har kjørt rundt i hele Oslo for å hente bakervarene.
– Vi mistet tellingen på hvor mye det var. Vi hadde en 20-liters bøtte full av wienerbrød, skolebrød og croissanter som vi helte opp i ølproduksjonen.
Ifølge bryggmesteren, var det en utfordrende ølproduksjon, og de visste heller ikke noe om hvordan resultatet skulle bli.
– Vi visste ikke hvordan det kom til å smake, sier han.
Men øl med bakervarer er ikke noe nytt.
– I USA lager de øl med frokostblandinger, smultringer, kaker og lignende. Amerikanere kjører jo «bigger, faster, stronger». Vi prøvde å holde det litt mer ned på jorda ved å bruke bakervarer.
Frydenlund er glad for at matvarer som ville blitt kastet blir nå brukt som produkt i bryggeriet.
– Man forbinder jo påske med boller og skolebrød, så er det litt gøy, sier Gramer.
Men det blir ikke storproduksjonen av ølet.
– Dette kommer dessverre ikke i butikker, og blir kun servert hos Ringnes Brygghus, sier han.