Reuse and sharing platform in art and culture
Göteborg, Västra Götaland, Sweden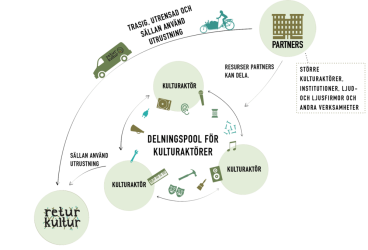 ENVIRONMENTAL:
Environmental awareness
Reduced waste
ECONOMIC:
Alternative revenue streams
Increased Manufactured Capital - material goods or fixed assets which contribute to the production process rather than being the output itself
Increased value creation
Reduced spending
SOCIAL:
Developing Social Capital in partnership with others (ie families, communities, businesses, trade unions, educational, voluntary organisations)
Increased access to services/products
Increased contacts among people
New community space
LOCATION CONTEXT:
not applicable
FUTURE POTENTIAL:
Replicable
FACET
Community, Electronics, Product-as-a-Service, Remanufacturing, Repair, Reuse, Sharing
LEVEL:
Nano - User, Product, Component & Material
BUSINESS MODEL:
P2P - Peer to Peer
| | | |
| --- | --- | --- |
| Founded | 01/2018 | |
| Digital platform launch | 10/2021 | |
CONCEPT:
Reuse and sharing platform in art and culture
Returkultur was established in the year 2018 from the perspective of a long-standing partnership between the volunteer-run festivals Skogsfesten of the Dalsland and Algotfestivalen , in the countryside. Events for several years, got a lot of things that they share for each other, and at the same time creating a network in order to collect and återbruka resources, which is a good thing to have, on the festival you like, such as food, construction materials, and stage equipment. And so was born the idea of the Returkultur " the sharing of things to collect is useful bös need to be able to be a little bit here and there, in the cultural sector? The first step of the study was to determine how this was going to be. How can we gather the resources? Where? And how can a culture of sharing in his business?
We aim at gathering of major cultural institutions, as we have heard, that they are happy to donate but don't know where to turn for help. In addition, there is the tip of the resources, which are often paid for with taxpayers ' money, it can be used by any other kulturatkörer when they are no longer needed by the institutions. And then the sound and the ljusfirmor, and the production company to get in touch in order to give stuff away. We have collected the best as we could from various sources and added the things on high, and shelving. We are investigating with the help of the students at Chalmers university of technology, how the division can operate in one of the cultural sector, the challenges and the opportunities that are available.
Since then it has continued to be assembled into things, checked, so we have a platform for sharing, where all the stuff are put up, looked at, what we need to deal with state, regional and local businesses would like to donate to, and much, much more.
The Returkulturs platform allows to borrow all sorts of gadgets that are great to wear in the production. It includes the things that we have acquired through donations, and other cultural actors of the things that is shared by us, through the things that are in the us or in the shared directly from the cultural organizations on the premises.
Also we have repairing services. We would like to solve electronic waste by capturing malfunctioning stage equipment, and repair in educational ways, and we would like to invite those who want to open workshops, in which we will fix old devices and learn together.
LOCAL LANGUAGE DESCRIPTION:
Svenska
Returkultur bildades 2018 ur ett mångårigt samarbete mellan de ideellt drivna festivalerna Skogsfesten i Dalsland och Algotfestivalen i Bohuslän. Festivalerna har under flera år skaffat sig massa saker som de delar mellan varandra och samtidigt skapat ett nätverk för att samla in och återbruka resurser som är bra att ha på festival – sånt som mat, byggmaterial och scenutrustning. Och så föddes idén till Returkultur – detta med dela på saker och samla in nyttigt bös måste ju kunna göras lite varstans i kultursektorn? Första steget var att undersöka hur detta kunde gå till. Hur kan vi samla in resurser? Vartifrån? Och hur kan kulturaktörer dela på sina saker?
Vi siktade in oss på att samla in från större kulturinstitutioner eftersom vi hört att dom gärna skänker saker men inte riktigt vet vart de ska vända sig. Dessutom är det ju toppen om deras resurser, som ofta är betalade av skattepengar, kan komma till användning av andra kulturatkörer när de inte längre behövs hos institutionerna. Och sen började ljud- och ljusfirmor och produktionsbolag höra av sig för att skänka grejer. Vi samlade in bäst vi kunde från olika håll och la saker på hög och i hyllor. Vi undersökte med hjälp av studenter på Chalmers hur delning kan fungera i kultursektorn, vilka hinder och möjligheter som finns.
Sedan dess har vi fortsatt att samlat in saker, kontrollerat så de funkar, skaffat en plattform för delning där alla prylar läggs in, undersökt vilka lagar vi behöver förhålla oss till när statliga, kommunala och regionala verksamheter vill skänka saker till oss och mycket mer.
I Returkulturs delningspool kan kulturaktörer låna alla möjliga prylar som är bra att ha i kulturproduktion. Delningspoolen innehåller saker vi samlat in genom donationer och andra kulturaktörers saker som delas genom oss, antingen genom att sakerna är hos oss eller genom att de delas direkt från kulturaktörernas lokaler.
Ibland slängs trasiga saker även om de går att laga, ofta för att det är ekonomiskt rationellt att slänga en pryl som kostar mer att laga på verkstad än vad den kostar att köpa ny. Det tycker vi är himla trist och inte alls rationellt för miljön. Vi vill lösa detta genom att samla in trasig scenutrustning och reparera under folkbildande former där vi bjuder in den som vill till öppna workshops där vi lagar och lär oss tillsammans. När prylen sen blir lagad hamnar den på vårt lager och är redo att lånas ut till kulturaktörer.