Vienna repairs it - the Vienna repair voucher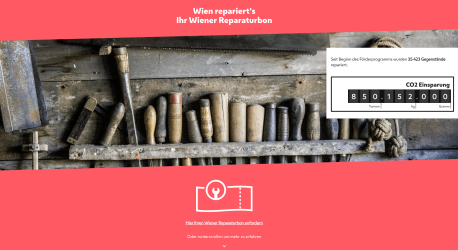 ENVIRONMENTAL:
Environmental awareness
Increased resource utilisation
Preserving Natural Capital - stocks & flows of energy and material
Reduced waste
ECONOMIC:
Increased value creation
Job creation
New markets
Reduced spending
Stimulating innovation
SOCIAL:
Developing Social Capital in partnership with others (ie families, communities, businesses, trade unions, educational, voluntary organisations)
Improved wellbeing
Increased access to services/products
Increased employment
Increased Human Capital - people's health, knowledge, skills and motivation
Increased local resilience
FUTURE POTENTIAL:
Scaleable, Replicable, Networkable
FACET
Electronics, Networks & Hubs, Repair
LEVEL:
Macro - Cities, Regions, Nations, Nano - User, Product, Component & Material
STAKEHOLDERS:
Private Sector, Public Sector
BUSINESS MODEL:
B2C - Business to Consumer, G2B - Government to Business, G2C - Government to Consumer
| | | |
| --- | --- | --- |
| ie.start date | | |
CONCEPT:
Vienna repairs it - the Vienna repair voucher
The support program of the City of Vienna to make repairing objects that are still functional compared to buying new ones financially more attractive. The repair voucher can be redeemed for repair services in companies in the repair network that are partners of the support program. 50 percent of the gross invoice amount is funded up to a maximum funding amount of 100 euros. The funding amount will be deducted from the invoice immediately. You don't have to make any tedious requests for withdrawal.
Through the scheme,  50 percent of repair costs were subsidized by the city, capped at €100. The bonus, which covered anything repairable, from clothing and electronics to bicycles and furniture, was a success: Over 35,000 items were repaired through the scheme, saving 850 tons of CO2 emissions. Other Austrian cities had tried repair bonuses in the past, but the beauty of the Viennese model was in its simplicity: while previously customers had to pay for the repair in full and then jump through bureaucratic hoops for reimbursement, they can now simply pay half of the cost, with the rest reimbursed directly to the repair shop. In January 2021 Austria also reduced the tax (VAT) on repairs of bicycles, shoes and clothing.
LOCAL LANGUAGE DESCRIPTION:
Deutsch
"Wien repariert's – der Wiener Reparaturbon" ist das Förderprogramm der Stadt Wien, um Instandsetzung noch funktionstauglicher Gegenstände gegenüber dem Neukauf finanziell attraktiver zu machen. Der Reparaturbon kann für Reparaturdienstleistungen in Betrieben des Reparaturnetzwerkes eingelöst werden, die Partner des Förderprogramms sind. Gefördert werden 50 Prozent der Bruttorechnungssumme bis zu einem maximalen Förderbetrag von 100 Euro. Der Förderbetrag wird sofort von der Rechnung abgezogen. Sie müssen keine mühsamen Anträge zur Auszahlung stellen.