collaborative community repair events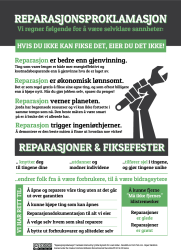 ENVIRONMENTAL:
Environmental awareness
Increased resource utilisation
Preserving Natural Capital - stocks & flows of energy and material
Reduced waste
ECONOMIC:
Increased value creation
Job creation
Reduced spending
SOCIAL:
Developing Social Capital in partnership with others (ie families, communities, businesses, trade unions, educational, voluntary organisations)
Increased access to services/products
Increased contacts among people
Increased emergency preparedness
Increased employment
Increased inclusion
Increased local pride
Increased local resilience
New community space
LOCATION CONTEXT:
Peri-urban, Rural
FUTURE POTENTIAL:
Scaleable, Replicable, Networkable
FACET
Community, Electronics, Repair
LEVEL:
Micro - Company/Organisation
STAKEHOLDERS:
Citizen, Third Sector
BUSINESS MODEL:
B2C - Business to Consumer, P2P - Peer to Peer
| | | |
| --- | --- | --- |
| start date | 04/2019 | |
CONCEPT:
collaborative community repair events
Connecting local organisations for a collaborative repair event – where else will you find 3D printing next to needle felting! This is how you breakdown social barriers!
LOCAL LANGUAGE DESCRIPTION:
Norsk
"Godt verktøy er halve jobben" Heter det seg. Vi er vel ikke helt enige der, men godt verktøy, godt selskap, vafler, pølser, kaffe og te er en suveren kombinasjon. At det i tillegg er meningsfylt gjør jo ikke noe.