Refurbed is an online marketplace for refurbished electronics, like second-hand phones, laptops and tablets.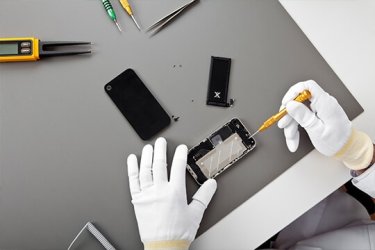 ENVIRONMENTAL:
Environmental awareness
Increased resource utilisation
Reduced emissions
Reduced waste
ECONOMIC:
Increased competitiveness
Increased Manufactured Capital - material goods or fixed assets which contribute to the production process rather than being the output itself
Increased value creation
Reduced spending
SOCIAL:
Improved wellbeing
Increased access to services/products
Increased Human Capital - people's health, knowledge, skills and motivation
Increased inclusion
LOCATION CONTEXT:
not applicable
FUTURE POTENTIAL:
Scaleable
FACET
Electronics, Remanufacturing, Reuse, Waste Management
LEVEL:
Micro - Company/Organisation
STAKEHOLDERS:
Private Sector
BUSINESS MODEL:
B2C - Business to Consumer
| | | |
| --- | --- | --- |
| Founded | 01/2017 | |
| EY Scale-Up Award | 07/2022 | |
| >72 kg of CO2 saved | 09/2022 | |
| LinkedIn Top Start-Up award | 10/2022 | |
TITLE:
Refurbed electronics
CONCEPT:
Refurbed is an online marketplace for refurbished electronics, like second-hand phones, laptops and tablets.
Refurbed is an online marketplace for refurbished electronics, like second-hand phones, laptops and tablets.
Refurbed products look like new, are 40% cheaper and use 70% less CO2 than the equivalent new product. Through rigorous quality controls, minimum 1-year warranty and a 30-day test phase, Refurbed ensures the high quality of its products. This way, Refurbed enables its customers to combine the quality and security of a new product with the sustainability and low price of a used one and prove that "sustainable" does not have to be more expensive.
Moreover, Refurbed plants a tree for every sold product, making the purchase CO2-positive.
It is Refurbed's mission to make refurbished electronics the norm and to bring a refurbished product into every household in Europe. Refurbed is present in Germany, Italy, Ireland and Poland.
Many people are not aware of how environmentally harmful new electronic devices are. During production, huge amounts of CO₂ emissions are generated, valuable resources are consumed and in the end only problematic e-waste remains, which has to be disposed of in a complex manner.
The idea for refurbed was born: a platform for renewed and high-quality products, with uniform, high standards in terms of quality, safety and warranty. This should enable consumers to buy sustainable devices easily and without risk.
As a rule, the renewal is carried out directly by licensed manufacturers or sellers. Each of the sellers, respectively (data cleansing, component replacement, external preparation, provision). Manufacturers on refurbed have many years of experience and extensive expertise in their specialty.
Refurbed devices are renewed through a 40-step process, making them look like new and function like new. On top of that, each device comes with at least a 12 month guarantee.
The goal of refurbed is to stop this development and make better use of the resources of our Earth! How do we want to achieve this? We focus on a circular economy: when buying a refurbed™ device, you use existing resources for a longer time compared to a new device and also save CO2 emissions and e-waste.
LOCAL LANGUAGE DESCRIPTION:
Deutsch
Vielen Menschen ist nicht bewusst, wie umweltschädlich elektronische Neugeräte sind. Bei der Produktion entstehen Unmengen an CO₂-Emissionen, es werden wertvolle Ressourcen verbraucht und am Ende bleibt nur noch problematischer Elektroschrott übrig, der aufwendig entsorgt werden muss.
Die Idee für refurbed war geboren: eine Plattform für erneuerte und qualitativ hochwertige Produkte, mit einheitlichen, hohen Standards hinsichtlich Qualität, Sicherheit und Garantie. So sollte es Konsumenten ermöglicht werden, einfach und ohne Risiko nachhaltige Geräte zu kaufen.
Die Erneuerung wird in der Regel von lizenzierten Herstellern oder Verkäufern direkt durchgeführt. Jeder der Verkäufer bzw (Datenbereinigung, Komponentenaustausch, Äußerliche Aufbereitung, Bereitstellung). Hersteller auf refurbed hat langjährige Erfahrung und umfassende Expertise in ihrem Spezialgebiet.
Ziel bei refurbed ist es, diese Entwicklung zu stoppen und die Ressourcen unserer Erde besser zu nutzen! Wie wir das schaffen wollen? Wir setzen auf Kreislaufwirtschaft: Beim Kauf eines refurbed™ Geräts nutzt du im Vergleich zu einem Neugerät vorhandene Ressourcen länger und sparst zudem CO2-Emissionen sowie Elektroschrott ein.