Platform for Accelerating the Circular Economy
PACE was created in 2018 by the World Economic Forum and is now hosted by the World Resources Institute
Rotterdam, Zuid-Holland, Netherlands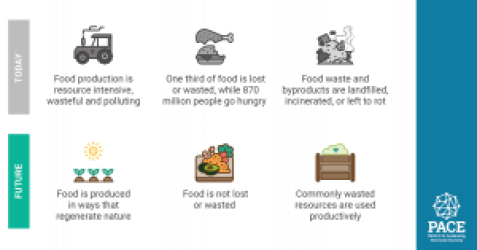 ENVIRONMENTAL:
Environmental awareness
Increased biodiversity
Increased environmental stewardship
Reduced emissions
Reduced waste
ECONOMIC:
Alternative revenue streams
Increased value creation
Reduced economic pressure
Stimulating innovation
SOCIAL:
Developing Social Capital in partnership with others (ie families, communities, businesses, trade unions, educational, voluntary organisations)
Increased contacts among people
Increased emergency preparedness
Increased local resilience
New community space
LOCATION CONTEXT:
not applicable
FUTURE POTENTIAL:
Networkable
FACET
Agriculture, Bio-economy, Community, Design, Energy, Food & Drink, Health & Wellbeing, Manufacturing, Material Flows, Plastic, Procurement, Supply Chain, Textiles, Tourism & Hospitality, Waste Management, Water
LEVEL:
Macro - Cities, Regions, Nations, Meso - Network, Cluster & Eco-Industrial Parks, Meta - Global
STAKEHOLDERS:
Knowledge Sector, Public Sector, Third Sector
BUSINESS MODEL:
P2P - Peer to Peer
SOCIETAL READINESS LEVEL:
| | | |
| --- | --- | --- |
| Founded | 01/2018 | |
| Circular Economy Action Agenda | 02/2021 | |
TITLE:
Platform for Accelerating the Circular Economy
CONCEPT:
PACE was created in 2018 by the World Economic Forum and is now hosted by the World Resources Institute
Since 2018, PACE has become the global collaboration platform for key public and private decision makers to share a vision, best practices, and scale the circular economy together. Nearly 100 leaders from governments, companies and civil society, across continents and sectors, have joined PACE's Leadership Group to help accelerate the transition to a circular economy globally.
Our vision is a global, circular economic system that enables human and environmental well-being.
Our mission is to catalyze global leadership from business, government, and civil society to accelerate the transition from a linear to a circular economy that will improve human and environmental well-being for current and future generations.
Our goal is to help double global circularity in the next 10 years, working towards climate-neutral and inclusive economies.
PACE is the global platform for public and private leaders to:
Address the most challenging barriers to the circular economy with concrete solutions and actions, enabling them to go further and faster together
Identify and promote best practices and knowledge based on the best available science to unlock scale
Align language, metrics, and guidelines to counter fragmentation
Reinforce individual efforts to drive commitment to ambitious circular economy goals with other actively engaged, frontrunning Leaders
PACE is a public-private collaboration platform for global leaders and their organizations to accelerate the transition to a circular economy at a scale that can improve human and environmental well-being for current and future generations. This platform is led by an action-driven community of public and private leaders that are committed to circular change, providing leaders with the connections, learning and opportunities to pilot and rapidly scale best practices that drive this change. PACE was initiated by the World Economic Forum and is currently hosted by WRI in the Hague.
There's no longer any question of whether we need a circular economy – the evidence is clear. The Circular Economy Action Agenda tells us how to make it happen, and how to ensure it has the greatest possible impact on people and planet.
Each publication of the Circular Economy Action Agenda presents:
Objectives – setting out what a circular economy would look like
Impact – assessment of the potential impact on people and the planet if the objectives are achieved
Barriers – analysis of what is impeding the implementation or scaling of circularity
Actions – 10 calls-to-action designed to optimize impact, overcome barriers, and study the unknown – including practical examples of where to start and case studies of what is already working.
LOCAL LANGUAGE DESCRIPTION:
English