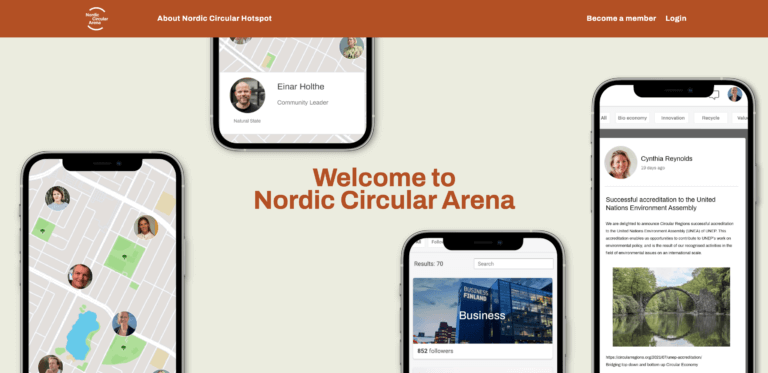 Stakeholder:
Private Sector
Public Sector
Type:
B2B - Business to Business
B2G - Business to Government
FACET:
Agriculture
Bio-economy
Built Environment
Community
Design
Education
Electronics
Food & Drink
Health & Wellbeing
Manufacturing
Maritime
Material Flows
Mobility
Networks & Hubs
Plastic
Procurement
Recycling
Remanufacturing
Supply Chain
Textiles
Waste Management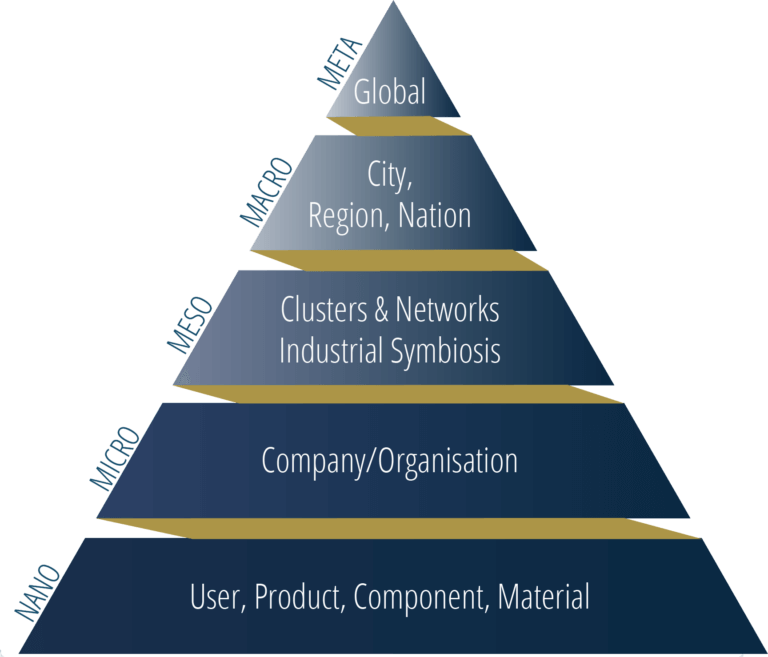 SOCIETAL READINESS LEVEL & POTENTIAL
Scaleable
Replicable
Networkable
| | | |
| --- | --- | --- |
| Phase 0 | 01/2018 | Having secured funding from Nordic Innovation, the Nordic Circular Hotspot kick-started its pre-phase (Phase 0, 2018-2019) by primarily focusing on investigating what the relevant stakeholders in the Nordics wanted from a Nordic Circular Hotspot. |
| Phase 1 | 01/2020 | Following this pre-phase and utilising the findings from the Nordic Circular Hotspot's Survey and Network Map of the Nordics, additional co-funding was received from Nordic Innovation to implement the strategic development process for 2020-2030 (Phase 1), which was facilitated by Natural State from June-December 2020. |
| Phase 2 | 01/2021 | Now, in Phase 2 (2021-2024), the Nordic Circular Hotspot is working on the realisation and implementation in the market by leading and learning from the circular and sustainable transition of the Nordic market in the new 20s. Its Nordic Circular Arena (to be launched in June 2021), Partnership Programme (presented in March and onboarding from April 2021), second Nordic Circular Summit (a hybrid event to be organised from Copenhagen in November 2021) as well as other events throughout the year are all being implemented and managed by 10 Managing Partners and facilitated by Natural State. |
| Phase 3 | 01/2025 | Phase 3 (2025-2030) be focusing on achieving a critical mass of the circular and sustainable dynamics and transactions in the Nordic region, reaching transitional tipping points faster in all segments and sectors. |
TITLE:
Nordic Circular Hotspot
CONCEPT:
Multi-national network
The Nordic Circular Hotspot was initiated in June 2019 and is at present run by 10 Managing Partners from five Nordic countries plus one addition from The Netherlands. Each Partner has extensive circularity experience, knowledge and networks—locally, regionally and internationally. The first pre-phase was initiated by Elin Bergman (Cradlenet) in Sweden and Cathrine Barth (Circular Norway) in Norway when they met during the Holland Circular Economy Week (HCEW2018) in The Netherlands, which the Holland Circular Hotspot Foundation was co-organising. They were impressed with how the Holland Circular Hotspot was working and wanted to start a similar organisation in the Nordics.
CHALLENGE:

Establishing transparency and network governance for key stakeholders (managing partners, network partners and relevant external stakeholders) to ensure that value flows both tangible (i.e. money, a service, a product) and intangible (information, data, reputation) are not bottlenecked. 
LOCAL LANGUAGE DESCRIPTION:
Norsk
MATERIALS & CERTIFICATIONS
| | |
| --- | --- |
| | |
| | |
| --- | --- |
| | |
| | | | |
| --- | --- | --- | --- |
| Motivations | Discover - What could happen | # of companies | Across Value Network |
CASE STUDY MAPPING SOURCE:
CIRCULAR INITIATIVE
CASE STUDY