Mother Hubbard's Cupboard
Food Resource Center. Building Community Food Security in Bloomington
Bloomington, Indianapolis, United States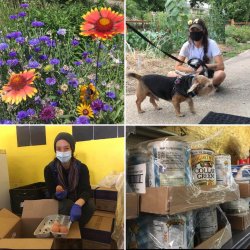 ENVIRONMENTAL:
Environmental awareness
Reduced waste
ECONOMIC:
Increased value creation
Reduced economic pressure
SOCIAL:
Developing Social Capital in partnership with others (ie families, communities, businesses, trade unions, educational, voluntary organisations)
Increased access to services/products
Increased Human Capital - people's health, knowledge, skills and motivation
Increased quality of life
LOCATION CONTEXT:
not applicable
FUTURE POTENTIAL:
Replicable
FACET
Product-as-a-Service, Reuse, Sharing
LEVEL:
Nano - User, Product, Component & Material
BUSINESS MODEL:
B2C - Business to Consumer
| | | |
| --- | --- | --- |
| Founded | 01/1998 | |
| Raised >8000 lbs fresh produce | 01/2004 | |
TITLE:
Mother Hubbard's Cupboard
CONCEPT:
Food Resource Center. Building Community Food Security in Bloomington
Mission
Mother Hubbard's Cupboard works to increase access to healthy food in ways that cultivate dignity, self-sufficiency, and community.
Vision
We envision a community where everyone has equal access to nutritious food, waste is minimized, and all members are healthy, self-sufficient, and empowered to reach their full potential.
Values
We believe that access to healthy food is a basic human right. We actively work to eliminate barriers by addressing both immediate needs and their root causes.
We recognize and invest in the power of good food to bring people together and support healthy communities.
Community is the heart of our organization. Protective relationships and collective power are built when people come together over a meal, harvest from the garden, and share skills. We facilitate inclusive spaces where individuals are invited to engage respectfully and compassionately.
We value equity and practice social justice by meeting people where they are, increasing access to resources, and facilitating connections to supportive networks.
We cultivate an organizational culture of integrity, grounded in transparency, accountability, and reflection.
Sustainability is vital to a healthy community. We value building sustainable programming, equitably supporting people, and responsibly stewarding our environment.
The Hub exists to ensure that all people have access to healthy, whole foods. When visiting the Hub, community members can find groceries in our food pantry, a space for shared learning in the garden and kitchen, resources to help grow and prepare food at home, and opportunities to build community and address the root causes of hunger.
Our Food Pantry serves an average of 3,800 community members weekly. Our Advocacy Programs asks the question of why so many need emergency food services in the first place.
From coming together over shared meals to facilitating civic engagement, the Hub's Advocacy Program works to address the root causes of hunger as a part of increasing access to nutritious food.
LOCAL LANGUAGE DESCRIPTION:
English