La Manivelle is a solidarity cooperative that offers the loan of tools and shared objects. It's simple - works like a library!
Genève, Geneva, Switzerland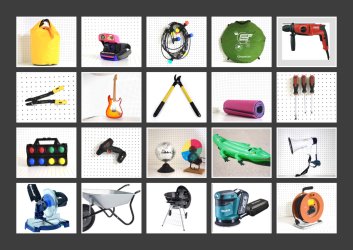 ENVIRONMENTAL:
Environmental awareness
Reduced waste
ECONOMIC:
Increased value creation
Reduced economic pressure
Reduced spending
SOCIAL:
Developing Social Capital in partnership with others (ie families, communities, businesses, trade unions, educational, voluntary organisations)
Improved wellbeing
Increased access to services/products
Increased contacts among people
Increased local resilience
Increased quality of life
New community space
LOCATION CONTEXT:
not applicable
FUTURE POTENTIAL:
Replicable
FACET
Product-as-a-Service, Sharing, Social Enterprise
LEVEL:
Nano - User, Product, Component & Material
BUSINESS MODEL:
B2C - Business to Consumer
| | | |
| --- | --- | --- |
| Founded | 01/2019 | |
| >3000 items rented | 07/2020 | |
| Voucher program | 12/2020 | |
CONCEPT:
La Manivelle is a solidarity cooperative that offers the loan of tools and shared objects. It's simple - works like a library!
The creative communities and solidarity, respect the planetary boundaries
We want to fight and raise awareness against the consumerism run rampant, which threatens our environment and perpetuated a social and economic system is unfair. The libraries of object sharing an easy, obvious, and necessary, which allows the sharing of goods and materials not often used.
Values :
authenticity and diversity, autonomy, democracy, ecology, openness, sharing, preservation of natural resources, proximity, respect, responsibility, simplicity, sobriety, solidarity, transparency.
Objectives:
Offer a service of sharing, quality, and accessible to the inhabitants
Reduce the consumption of goods and resources
Promote the projects to the similar values, a relay point to the networks of the social and solidarity economy
Be a stimulating co-creation for the population
Inform and educate the population on the themes of the climate, to the exclusion of the physical limits of the planetary
Share the knowledge, time, skills, know-how, and things
The objects and tools come first in a time of gifts and donations from individuals who support us in this adventure by offering what they feel they can share. Companies have also made donations !
The coopérateurices have the opportunity to register on a list of objects that iels would need and that are not in stock, so that the co-op acquired.
Members can regularly vote for the objects that iels really like and they will be acquired by The Crank. Currently it has nearly 800 tools and objects that are available in the library, and this only thanks to donations !
LOCAL LANGUAGE DESCRIPTION:
Français
Des communautés créatives et solidaires, respectueuses des limites planétaires
Nous voulons lutter et sensibiliser contre le consumérisme rampant qui compromet notre environnement et perpétue un système économique et social injuste. Les bibliothèques de partage d'objets sont une solution facile, évidente et nécessaire qui permet, par la mise en commun de biens et matériels peu souvent utilisés.
La Manivelle poursuit les objectifs suivants:
Offrir un service de partage de qualité et accessible aux habitants
Réduire la consommation de biens et ressources
Promouvoir les projets aux valeurs similaires, un point relais vers les réseaux de l'économie sociale et solidaire
Être un lieu stimulant de co-création pour la population
Informer et sensibiliser la population sur les thématiques du climat, de l'exclusion, des limites physiques planétaires
Partager les connaissance, du temps, des compétences, savoir-faire et des choses
Les objets et outils proviennent dans un premier temps de dons de particuliers qui nous soutiennent dans cette aventure en offrant ce qu'ils estiment pouvoir mettre en commun. Des entreprises ont également effectué des dons !
Les coopérateurices ont de plus la possibilité d'inscrire sur une liste des objets dont iels auraient besoin et qui ne sont pas en stock afin que la coopérative les acquière.
Les membres peuvent régulièrement voter pour les objets qu'iels plébiscitent et ceux-ci seront acquis par La Manivelle. Actuellement c'est près de 800 outils et objets qui sont disponibles dans la bibliothèque, et ce uniquement grâce aux dons !
Le catalogue en ligne ci-dessous inventorie tous les objets disponibles à La Manivelle:
Catalogue en ligne
Les coopérateurices peuvent s'inscrire et créer un compte qui leur permettra de réserver en avance des objets.