local value creation from coffee grounds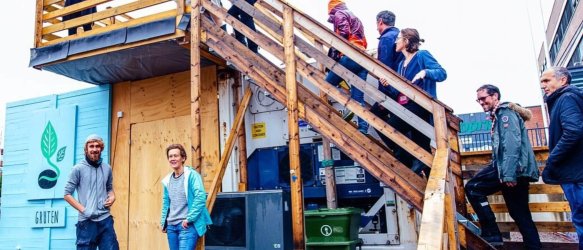 ENVIRONMENTAL:
Environmental awareness
Increased resource utilisation
Reduced waste
ECONOMIC:
Increased value creation
Job creation
New markets
SOCIAL:
Developing Social Capital in partnership with others (ie families, communities, businesses, trade unions, educational, voluntary organisations)
Increased employment
Increased local resilience
New community space
FUTURE POTENTIAL:
Scaleable, Replicable, Networkable
FACET
Agriculture, Community, Food & Drink, Social Enterprise
LEVEL:
Micro - Company/Organisation
STAKEHOLDERS:
Citizen, Third Sector
BUSINESS MODEL:
B2B - Business to Business, B2C - Business to Consumer
| | | |
| --- | --- | --- |
| start date | 05/2014 | |
CONCEPT:
local value creation from coffee grounds
Gruten is a future-oriented and locally based business that creates new values for the city's coffee waste! With Oslo's black gold as a raw material, we offer exciting products and contribute to increased knowledge and awareness of coffee grounds as a useful resource.
We are future-oriented, at the same time as we focus on what is here and now! We want to be a positive role model, and show that it is possible to create exciting products that are at the same time environmentally friendly and good for us humans.
Using HurtiGRUTEN, our specially designed transport bike, we use pedals and electric power, and a good dose of coffee energy to collect the city's coffee grounds. At Gruten farm, we transform this fantastic and almost unused and resource into innovative products!
At Gruten, we work hard to succeed, but for us, success is measured in more than how much we sell and money on the books. Gruten is a non-profit company which means that any financial profit goes back to the operation of the business and to socially beneficial purposes.
LOCAL LANGUAGE DESCRIPTION:
Norsk
Gruten er en fremtidsrettet og lokalt forankret virksomhet som skaper nye verdier av byens kaffeavfall! Med Oslos sorte gull som råstoff tilbyr vi spennende produkter og bidrar til økt kunnskap og bevissthet om kaffegrut som en nyttig ressurs.
Vi er fremtidsrettet, samtidig som vi har fokus på det som finnes her og nå! Vi ønsker å være et positivt forbilde, og vise det er mulig å skape spennende produkter som samtidig er miljøvennlige og bra for oss mennesker.
Ved hjelp av HurtiGRUTEN, vår spesial designede transportsykkel bruker vi pedal og elkraft, og en god dose kaffeenergi til å samle inn byens kaffegrut. På Gruten gård forvandler vi denne fantastiske og nesten ubrukte og ressursen til innovative produkter!
I Gruten jobber vi hardt for å lykkes, men for oss måles suksess i mer enn hvor mye vi selger og penger på bok. Gruten er et ideelt selskap som betyr at et eventuelt økonomisk overskudd går tilbake til driften av virksomheten og til samfunnsnyttige formål.