Umeå, Västerbotten, Sweden
Type:
B2B - Business to Business
B2C - Business to Consumer
B2G - Business to Government
FACET:
Built Environment
Design
Education
Mobility
Networks & Hubs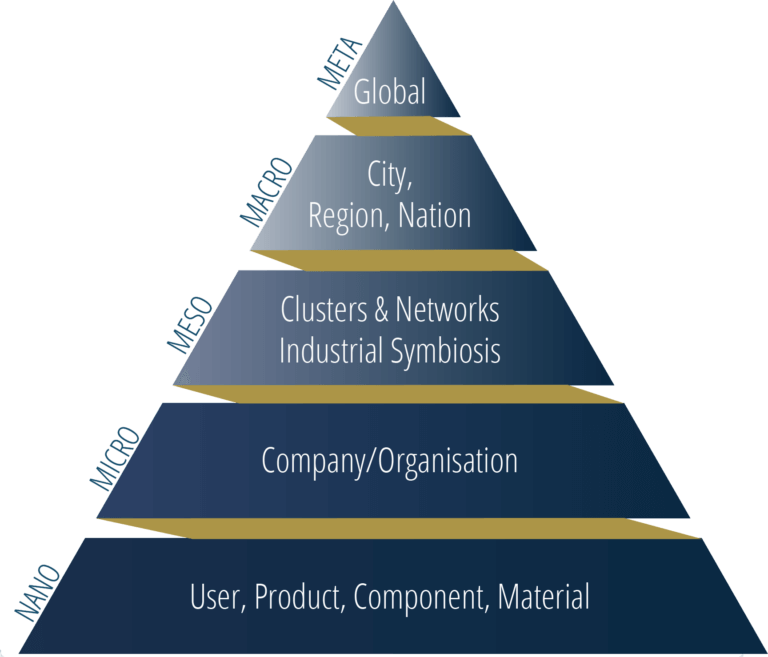 SOCIETAL READINESS LEVEL & POTENTIAL
Scaleable
Replicable
Networkable
| | | |
| --- | --- | --- |
| Inauguration | 01/2000 | n the beginning Green Zone was completely unique. No similar facility existed in 2000, when the Ford Motor Company, McDonald's and Statoil inaugurated an eco-friendly and energy efficient area with a car dealership, a petrol station with grocery store and a fast food restaurant. |
CONCEPT:
A Road to Sustainability
Green Zone – A Road to Sustainability
The Green Zone in Umeå is still a role model as a service area closing the loop – even more than 15 years after its inauguration! Green Zone proves in an educational way that it is possible and economically viable to transform from linear to circular thinking. Many visitors come to here every year to learn more about energy efficiency and sustainable solutions.
In the beginning Green Zone was completely unique. No similar facility existed in 2000, when the Ford Motor Company, McDonald's and Statoil inaugurated an eco-friendly and energy efficient area with a car dealership, a petrol station with grocery store and a fast food restaurant.
Thanks to unique solutions and a long-term systems approach negative environmental impact is minimized. Various forms of clean tech are applied at the Green Zone; recovery of excess heat and cold, green roofs, reusable and recyclable materials and filters purifying indoor air are just a few examples.
Learning Project
Green Zone shows that it is possible for human activities to be a part of circular loops, both biological and technical.
Although automobile repair shops, filling stations, car wash and restaurants normally are among the worst polluters in society, only a very small part of the waste water goes into the municipal sewage network at the Green Zone. This is due to grease and oil removal which allows most of the grey water to be infiltrated locally. All stormwater in the area is also taken care of locally, e.g. with the help of green roofs and a pond. And even the car wash water gets processed and recirculated, therefore fresh water needs are reduced to 30 liters water per car wash compared to 300 liters in a conventional system. Regular environmental education is provided to all staff at the facility.
Systems thinking
There are many smart solutions at the Green Zone, which are based on a system thinking approach. Daylight is important, and provided through special lanternines that even light up the repair shop. The sun is used to preheat air on the south facade – a cheap and smart solution that even works well in northern Sweden. Vacuum toilets save water and filters with living plants provide better indoor air quality and humidity. But the best example is perhaps passive air cooling methods where underground pipes preheat and precool incoming indoor air and hence reduce energy consumption.
Profitable
Green Zone has been a good deal. The production cost of the area were about 20 percent higher than for the cheapest possible conventional option, but heat and electricity consumption is about 60 percent lower compared to if conventional energy solutions had been used. Breakeven was reached in 2010. Energy consumption in the Green Zone is 45 kWh per square meter per year, and the small amount of electricity that is needed consists of wind energy.
Green Zone has also contributed to social sustainability. The amount of sick leave days is among the lowest among similar facilities. There are a few reasons for this, e.g. the staff can enjoy a good working environment thanks to healthy materials, good indoor air quality and closed systems for chemicals.
During 2021 the planning is in full progress to extend the area to Green Zone 2.0 – an upgrade to implement new state-of-the-art solutions in circular building.
Watch Green Renaissance video about Green Zone: https://vimeo.com/79408751
LOCAL LANGUAGE DESCRIPTION:
Svenska
Green Zone – en väg mot hållbarhet
Green Zone i Umeå är fortfarande ett föredöme i att sluta cirkeln, även mer än 15 år efter invigningen. Green Zone visar på ett pedagogiskt sätt att det är möjligt och ekonomiskt hållbart att gå från linjärt till cirkulärt tänkande. Många besökare kommer hit för att lära sig mer om energieffektivitet och hållbara lösningar.
I början var Green Zone helt unik. Ingen liknande anläggning existerade år 2000 när Ford Motor Company, McDonald's och Statoil invigde ett eko-vänligt och energieffektivt område med en bilförsäljare, energistation med livsmedelsbutik samt snabbmatsrestaurang. Tack vare unika lösningar och långsiktigt systemtänkande minimeras den negativa påverkan på miljön. Olika former av cleantech används på Green Zone: återvinning av värme och kyla, gröna tak, återanvändbara och återvinningsbara material samt filter som renar inomhusluften är bara några exempel.
Pedagogiskt projekt
Green Zone visar att mänskliga aktiviteter kan vara en del av kretsloppet, både biologiska och teknologiska.
Även om bilfirmor, bilmekaniker, bränslestationer, biltvättar och restauranger normalt sett står för en stor del av föroreningen i samhället, går endast en liten del av avloppsvattnet på Green Zone ut i det kommunala avloppsnätet. Detta beror på en fett- och oljeavskiljare som gör att det mesta av det går vattnet infiltreras lokalt. Allt dagvatten i området tas om hand lokalt med hjälp av gröna tak och en damm. Även vattnet från biltvätten processas och återanvänds, vilket innebär att behovet av färskvatten har minskat till 30 liter vatten per biltvätt jämförbart med 300 liter i ett konventionellt system. Samtliga anställda på området får en gedigen miljöutbildning.
Systemtänkande
Det finns många smart lösningar på Green Zone som är baserat på systemtänkande. Dagsljus är viktigt och genom speciella lanternor förses även bilverkstaden med ljus. Solens strålar som träffar den södra fasadväggen används för att värma upp luften, en smart och billig lösning som även fungerar i norra Sverige. Vakuumtoaletter sparar vatten och filter med levande växter ger en bättre inomhusluft och luftfuktighet. Men det bästa exemplet är kanske den passiva luftkylningsmetoden där underliggande rör förvärmer och förkyler inkommande luft och därigenom minskas energikonsumtionen.
Lönsamt
Green Zone har varit en bra affär. Produktionskostnaden för området var ca 20% högre än med det billigaste konventionella alternativet, men värme- och elkonsumtionen är ca 60% lägre jämfört med om konventionella energilösningar hade använts. Break-even uppnåddes år 2010. Energikonsumtionen i Green Zone är 45kWh per kvadratmeter och år, och den lilla mängd elektricitet som behövs består av vindenergi.
Green Zone har också bidragit till social hållbarhet. Antalet sjukdagar hos personalen på området är bland de lägsta bland liknande anläggningar. Det finns många anledningar till detta, t.ex. kan personalen njuta av en bra arbetsmiljö tack vare hälsosamma material, bra inomhusluft och slutna system för kemikalier.
Under 2021 är planeringsprocessen fullt igång för att utöka området till Green Zone 2.0 där nya innovativa lösningar inom cirkulärt byggande kommer implementeras.
Mer info finns i denna video om Green Zone: https://vimeo.com/79408751
MATERIALS & CERTIFICATIONS
| | |
| --- | --- |
| | |
| | |
| --- | --- |
| | |
| | | | |
| --- | --- | --- | --- |
| | | | |
CASE STUDY MAPPING SOURCE:
CIRCULAR INITIATIVE
CASE STUDY