European Environmental Bureau (EEB)
Alliance to ensure the EU secures a healthy environment and rich biodiversity
Brussel, Bruxelles, Belgium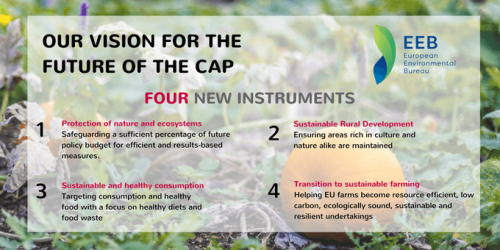 ENVIRONMENTAL:
Environmental awareness
Increased biodiversity
Increased environmental stewardship
Preserving Natural Capital - stocks & flows of energy and material
Reduced emissions
Reduced waste
ECONOMIC:
Increased value creation
New markets
Reduced economic pressure
Stimulating innovation
SOCIAL:
Improved wellbeing
Increased access to services/products
Increased emergency preparedness
Increased Human Capital - people's health, knowledge, skills and motivation
Increased local resilience
Increased quality of life
LOCATION CONTEXT:
not applicable
FUTURE POTENTIAL:
Scaleable, Networkable
FACET
Agriculture, Bio-economy, Built Environment, Community, Energy, Logistics, Manufacturing, Material Flows, Networks & Hubs, Supply Chain, Textiles, Waste Management, Water
LEVEL:
Macro - Cities, Regions, Nations, Meso - Network, Cluster & Eco-Industrial Parks, Micro - Company/Organisation
STAKEHOLDERS:
Citizen, Knowledge Sector, Public Sector, Third Sector
BUSINESS MODEL:
G2B - Government to Business, G2G - Government to Government, P2P - Peer to Peer
TECHNOLOGY:
Big Data, EdTech, Networks
SOCIETAL READINESS LEVEL:
| | | |
| --- | --- | --- |
| Founded | 01/1974 | |
| European ECO Forum | 01/1998 | |
| the Zero Mercury campaign | 11/2004 | |
| Coolproducts campaign | 01/2011 | |
TITLE:
European Environmental Bureau (EEB)
CONCEPT:
Alliance to ensure the EU secures a healthy environment and rich biodiversity
The EEB is the largest network of environmental citizens' organisations in Europe. It currently consists of 180 member organisations in 38 countries, including a growing number of networks, and representing some 30 million individual members and supporters.
The EEB stands for sustainable development, environmental justice, global equity, transparency and participatory democracy. It promotes the principles of prevention, precaution and the polluter pays.
Our internal value statement:
o Democracy: We are a representative and inclusive organisation
o Fairness: We are committed to justice, equality and non-discrimination
o Respect: We provide an enabling, nurturing work culture that inspires excellence
o Integrity: We advocate policies based on science and communicate with honesty
o Sustainability: We strive to practice what we preach, applying green principles to our work.
It is the only European umbrella organisation that covers such a large number of environmental policy issues and is at the same time open to membership for all genuine NGOs active in the field of the environment.
This makes the EEB a unique and unifying actor for the European environmental movement and gives it a strong voice in EU and international policy processes.
On an international level, we work in collaboration with many networks in the Global South on environmental justice, human rights and sustainable consumption and production.
Communication work is an integral part of EEB advocacy with our media networks at the European and grassroots level ensuring an effective complement to direct advocacy and mobilisation.
LOCAL LANGUAGE DESCRIPTION:
English