from food waste to inclusive jobs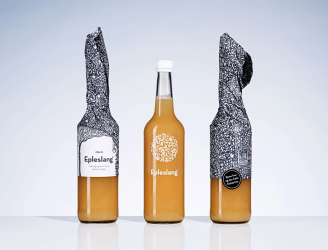 ENVIRONMENTAL:
Environmental awareness
Increased biodiversity
Increased environmental stewardship
Increased resource utilisation
Preserving Natural Capital - stocks & flows of energy and material
Reduced waste
ECONOMIC:
Increased competitiveness
Increased value creation
Job creation
New markets
Stimulating innovation
SOCIAL:
Developing Social Capital in partnership with others (ie families, communities, businesses, trade unions, educational, voluntary organisations)
Improved wellbeing
Increased access to services/products
Increased contacts among people
Increased employment
Increased Human Capital - people's health, knowledge, skills and motivation
Increased inclusion
Increased local pride
Increased physical activity
Increased quality of life
FUTURE POTENTIAL:
Scaleable, Replicable, Networkable
FACET
Agriculture, Community, Food & Drink, Health & Wellbeing, Social Enterprise
LEVEL:
Micro - Company/Organisation, Nano - User, Product, Component & Material
STAKEHOLDERS:
Private Sector, Third Sector
BUSINESS MODEL:
B2B - Business to Business, B2C - Business to Consumer
| | | |
| --- | --- | --- |
| start date | | |
CONCEPT:
from food waste to inclusive jobs
A group of students at Günderskolen asked themselves the question "why are there so few who use the apples in their garden?". What started as a school assignment has grown into a well-known brand and product.
Many people in Oslo have more apples than they can harvest and eat themselves, and all apples should be useful. The gang from the Gründerskolen decided to go on 'epleslang' – at the invitation of kind and generous garden owners.
The idea was, and is, to link the city's natural and food resources with human resources and create a locally produced quality product.
Epleslang believes in including everyone, and offers jobs for motivated people with disabilities and young people who want work experience.
At Epleslang, they are responsible for harvesting the apples, and do a fabulous job. They harvest apples that become 100% natural apple juice, and then the rest of Epleslang help with labelling and packaging. Epleslang apple juice is simply filled with a good conscience!
To inspire and change traditional business thinking:
Epleslang has three important values; to take social responsibility, be environmentally friendly and offer top quality for those who enjoy their apple juice.
Their vision is to inspire and change traditional business thinking by focusing on sustainability, creating awareness around food and making full use of both natural and human resources.
Epleslang has always been concerned with finding good partners, and is proud that the apple press they use, which is located at Abildsø farm in the middle of Oslo, that they use the Bilkollektivet as a transport tool, that Miljøbudet is a distributor and has Cultura bank as a money manager.
In 2013, Epleslang was named Social Entrepreneur of the Year. As of today, Epleslang has 700 orchards they can come and visit to harvest apples.
THE JOB
The job provides belonging, community, a meaningful day and opportunities to get out of addiction permanently.
The job – a job training offer
The job is a job training offer for former or active drug addicts over the age of 18. Here you get a community, belonging and offers for work training/activity. Many people who come to us become straight and with a reduced need for drugs. For some, this is the way to become completely drug-free, and get out into working life.
Feeling of mastery and positive experiences
The job offers a wide range of tasks based on interest, health and daily routine. Breakfast/lunch will be served. The most important experience we can offer is the good feeling of having done something meaningful. You quickly settle into the work routines, and a successful working day gives content to a perhaps difficult everyday life. In addition, you get a sense of mastery linked to the performance of the work task.
You get a few drug-free hours, a few extra kroner in your pocket at the end of the working day (motivation money), and contribute some tax to the community. As we see it, this contributes to the individual feeling that they have had a positive experience.
Varied tasks
The tasks offered vary depending on the location – examples are street cleaning, furniture and carpentry workshop, redesign of reusable items, candle casting, beekeeping, firewood production, maintenance of parks/walking trails.
Activity and community
We also occasionally do fun things together, such as skiing competitions, summer trips with swimming and barbecues, markets selling things we produce, shared meals at holidays. fishing trips. We also have seasonal activity days with cycling, ice fishing, alpine/cross-country skiing, rafting and football.
LOCAL LANGUAGE DESCRIPTION:
Norsk
Som studenter ved Günderskolen stilte en gjeng studenter seg spørsmålet "hvorfor er det så få som bruker eplene i hagen sin?". Det som startet som en skoleoppgave har vokst til å bli en kjent merkevare og et produkt.
Mange i Oslo har flere epler enn de selv kan høste og spise, og alle epler bør jo komme til nytte. Gjengen fra Gründerskolen bestemte seg for å dra på epleslang – etter invitasjon fra snille og gavmilde hageeiere.
Ideen var, og er, å knytte sammen byens natur- og matressurser med menneskelige ressurser og lage et lokalprodusert kvalitetsprodukt.
Epleslang tror på å inkludere alle, og tilbyr jobb for motiverte mennesker med nedsatt funksjonsevne og unge som ønsker arbeidserfaring.
Hos Epleslang får de stå for innhøsting av eplene, og gjør en fabelaktig jobb. De høster eple som blir til 100 % naturlig eplemost, og så hjelper resten av Epleslang med etikettering og pakking. Epleslang eplemost er rett og slett fylt med god samvittighet!
Å inspirere og forandre tradisjonell businesstankegang
Epleslang har tre viktige verdier; å ta samfunnsansvar, være miljøvennlige og tilby topp kvalitet for dem som nyter eplemosten deres.
Visjonen deres er å inspirere og forandre tradisjonell businesstankegang ved å sette fokus på bærekraft, skape bevissthet rundt mat og å benytte fullt ut både de naturlige og menneskelige ressursene.
pleslang har hele tiden vært opptatt av å finne gode samarbeidspartnere, og er stolt over at eplepressen de bruker, som står på Abildsø gård midt i Oslo, at de bruker Bilkollektivet som transportverktøy, at Miljøbudet er distributør og har Cultura-bank som pengeforvalter.
I 2013 ble Epleslang kåret til Årets sosiale entreprenør. Per i dag har Epleslang 700 hager de kan komme og besøke for å høste epler.
JOBBEN
Jobben gir tilhørighet, fellesskap, en meningsfylt dag og muligheter for å komme seg ut av rus varig.
Jobben – et arbeidstreningstilbud
Jobben er et arbeidstreningstilbud for tidligere eller aktive rusmiddelavhengige over 18 år. Her får du et fellesskap, tilhørighet og tilbud om arbeidstreing/aktivitet. Mange som kommer til oss blir rakere i ryggen og med et redusert behov for rus. For noen er dette veien til å bli helt rusfri, og kommer seg ut i arbeidslivet.
Mestringsfølelse og positive opplevelser
Jobben tilbyr et bredt spekter av arbeidsoppgaver ut fra interesse, helse og dags- form. Det blir servert frokost/lunsj. Den viktigste opplevelsen vi kan tilby er den gode følelsen av å ha gjort noe meningsfylt. Du kommer fort inn i arbeidsrutinene på Jobben, og en gjennomført arbeidsdag gir innhold i en kanskje tung hverdag. I tillegg får du mestringsfølelse knyttet til utførelsen av arbeidsoppgaven.
Du får noen rusfrie timer, noen ekstra kroner i lommen ved arbeidsdagens slutt (motivasjonspenger), og bidratt med litt skatt til fellesskapet. Slik vi ser det bidrar dette til at den enkelte føler å ha hatt en positiv opplevelse.
Varierte arbeidsoppgaver
Arbeidsoppgavene som tilbys varierer avhengig av sted – eksempler er gaterydding, skjærgårdstjeneste, møbel- og snekkerverksted, redesign av gjenbruksartikler, lysstøping, birøkting, vedproduksjon, vedlikehold av parker/turstier.
Aktivitet og fellesskap
Vi gjør også av og til morsomme ting sammen, som for eksempel skikonkurranser, sommerturer med bading og grilling, markeder med salg av ting vi produserer, felles måltider ved høytider. fisketurer. Vi har også sesongbaserte aktivitetsdager med sykling, isfisking, alpint/langrennsski, rafting og fotball.