Envirotech: Remanufactured Furniture
For 25 yrs, Envirotech has been a leading provider of remanufactured office furniture. This impacts a reduction of 80% GHG and 12M ton landfill. Our products are like new for a fraction of the cost.
Mississauga, Ontario, Canada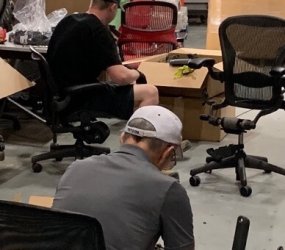 ENVIRONMENTAL:
Environmental awareness
Increased environmental stewardship
Increased resource utilisation
Preserving Natural Capital - stocks & flows of energy and material
Reduced waste
ECONOMIC:
Increased competitiveness
Increased value creation
Job creation
New markets
Reduced spending
Stimulating innovation
SOCIAL:
Improved wellbeing
Increased Human Capital - people's health, knowledge, skills and motivation
Increased local resilience
New community space
FUTURE POTENTIAL:
Scaleable
FACET
Built Environment, Manufacturing, Material Flows, Remanufacturing
LEVEL:
Macro - Cities, Regions, Nations, Micro - Company/Organisation
STAKEHOLDERS:
Private Sector, Public Sector
BUSINESS MODEL:
B2B - Business to Business, B2C - Business to Consumer, B2G - Business to Government
| | | |
| --- | --- | --- |
| Google Innovation Award | 01/2022 | |
| Inception | 01/1996 | |
TITLE:
Envirotech: Remanufactured Furniture
CONCEPT:
For 25 yrs, Envirotech has been a leading provider of remanufactured office furniture. This impacts a reduction of 80% GHG and 12M ton landfill. Our products are like new for a fraction of the cost.
Envirotech has been Canada's premier provider of remanufactured furniture solutions for the past 25 years. We've diverted over 27 million pounds of furniture from our landfills and helped thousands of organizations save time, money, and the environment by choosing low-carbon office furniture.
In 2022, we were engaged by the Region of Halton to participate in the most extensive remanufactured office fit-out ever in Canada – over 1100 Remanufactured Workstations! The Region of Halton demonstrated how circular procurement strategies within the workplace could be achieved at scale throughout Ontario's Municipalities. The environmental impact was significant. Compared to new furniture, Envirotech's Remanufactured chairs and workstations contributed to lowering the project's embodied carbon furniture footprint by up to 80%! Envirotech is the only remanufacturer in Canada that can demonstrate this through our extensive third-party certified lifecycle analysis.
To put this project's impact into perspective, the Region of Halton diverted over 254,000 lbs of furniture from landfill – on one single project!
We believe now is the time to shift towards circular procurement strategies for our businesses and municipalities. At Envirotech, we are confident that If more municipalities and organizations take the same approach as Halton and mandate that remanufactured furniture must be proposed along with new on this upcoming RFQ, it will set a new standard for the sustainable workplace and create significant opportunities for circular office furniture.
LOCAL LANGUAGE DESCRIPTION:
English
Envirotech est le premier fournisseur canadien de solutions de meubles réusinés depuis 25 ans. Nous avons détourné plus de 27 millions de livres de meubles de nos décharges et aidé des milliers d'organisations à économiser du temps, de l'argent et à protéger l'environnement en choisissant des meubles de bureau à faible émission de carbone.
En 2022, nous avons été engagés par la région de Halton pour participer au plus vaste aménagement de bureaux réusinés jamais réalisé au Canada – plus de 1 100 postes de travail réusinés ! La région de Halton a démontré comment des stratégies d'approvisionnement circulaire sur le lieu de travail pouvaient être mises en place à grande échelle dans toutes les municipalités de l'Ontario. L'impact environnemental était important. Par rapport aux nouveaux meubles, les chaises et les postes de travail remanufacturés d'Envirotech ont contribué à réduire l'empreinte carbone incarnée des meubles du projet jusqu'à 80 % ! Envirotech est le seul remanufactureur au Canada qui peut le démontrer grâce à notre analyse approfondie du cycle de vie certifiée par une tierce partie.
Pour mettre l'impact de ce projet en perspective, la région de Halton a détourné plus de 254 000 livres de meubles de la décharge – sur un seul projet !
Nous pensons qu'il est maintenant temps de passer à des stratégies d'approvisionnement circulaires pour nos entreprises et nos municipalités. Chez Envirotech, nous sommes convaincus que si davantage de municipalités et d'organisations adoptent la même approche que Halton et exigent que des meubles remanufacturés soient proposés avec de nouveaux sur cette prochaine demande de prix, cela établira une nouvelle norme pour le lieu de travail durable et créera d'importantes opportunités pour la circulation circulaire. mobilier de bureau.