Tools library with 3 locations in Edinburgh and workshops!
Edinburgh, Edinburgh, Great Britain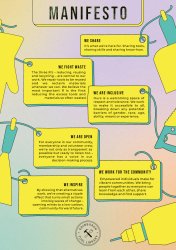 ENVIRONMENTAL:
Reduced waste
ECONOMIC:
Increased Manufactured Capital - material goods or fixed assets which contribute to the production process rather than being the output itself
Increased value creation
Job creation
SOCIAL:
Developing Social Capital in partnership with others (ie families, communities, businesses, trade unions, educational, voluntary organisations)
Increased access to services/products
Increased contacts among people
Increased employment
Increased Human Capital - people's health, knowledge, skills and motivation
Increased physical activity
Increased quality of life
New community space
Reduced gender inequalities
LOCATION CONTEXT:
not applicable
FUTURE POTENTIAL:
Replicable
FACET
Community, Design, Education, Manufacturing, Product-as-a-Service, Remanufacturing, Reuse, Sharing
LEVEL:
Nano - User, Product, Component & Material
BUSINESS MODEL:
B2C - Business to Consumer, P2P - Peer to Peer
| | | |
| --- | --- | --- |
| Founded | 07/2018 | |
| >20,000th tool loans | 10/2020 | |
| BuySocialScotland partner | 09/2021 | |
TITLE:
Edinburgh Tool Library
CONCEPT:
Tools library with 3 locations in Edinburgh and workshops!
Why own when you can share? At Edinburgh Tool Library you can borrow tools from our inventory of thousands of them. Don't know how to use them? No problem! We bring members together to build and learn by sharing skills and knowledge.
As well as borrowing tools to use at home, members can access our workshops several times a week, usually evenings and weekends.
A tool library is first a simple idea – it works like a normal library but with tools instead of books.
Borrow things like drills, sanders, and steamers by the week.
Join in events like DIY classes, workshops, and community builds.
Meet your neighbours and people from your community, share your knowledge and skills, or learn something new.
Volunteer! Help run the tool library, assist with our events, and build stronger links within our communities.
For us, a tool library is about building a community as well as building things.
We run an employability programme, a series of volunteer builds, and a residency programme for young makers.
We believe in access over excess. By borrowing tools, sharing skills and learning to live more responsibly, we look to support ourselves, our neighbours and our planet.
LOCAL LANGUAGE DESCRIPTION:
English