Alternative school lunches utilising food waste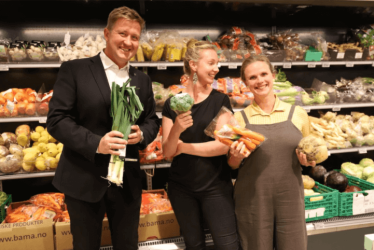 ENVIRONMENTAL:
Environmental awareness
Increased resource utilisation
Reduced waste
ECONOMIC:
Increased value creation
SOCIAL:
Developing Social Capital in partnership with others (ie families, communities, businesses, trade unions, educational, voluntary organisations)
Improved wellbeing
Increased access to services/products
Increased Human Capital - people's health, knowledge, skills and motivation
LOCATION CONTEXT:
Peri-urban, Urban
FUTURE POTENTIAL:
Scaleable, Replicable, Networkable
FACET
Education, Food & Drink, Health & Wellbeing
LEVEL:
Micro - Company/Organisation
STAKEHOLDERS:
Private Sector
| | | |
| --- | --- | --- |
| start date | | |
CONCEPT:
Alternative school lunches utilising food waste
LOCAL LANGUAGE DESCRIPTION:
Norsk
DIGGG – et alternativ til matpakken
DIGGG er et prosjekt der vi kartlegger mulighetene for å tilby et næringsrikt og bærekraftig måltid på skolen ved å bruke mat som av ulike grunner ikke lenger kan selges i butikken, til en pris som kan konkurrere med matpakken.
Ved å ta i bruk intelligent programvare som predikerer matsvinn i butikker og på serveringssteder og samtidig kartlegge hva elevene mener, vil vi kunne redusere matsvinn i begge endene.
Vi ønsker at barna skal være med på å utforme systemet og gi dem en sjanse til å påvirke sin egen fremtid gjennom maten de spiser i skolen. Skolen vil kunne bruke skolematordningen til å aktivt undervise i matsvinn, bærekraft, klima, matkultur og kokkelering.
Hvorfor det?
Barn som spiser ordentlig, lærer bedre.
Barn som blir vant til å spise sunn mat tidlig, vil sette større pris på god mat også senere i livet.
Foreldre skal slippe å bruke tid på å smøre matpakke.
Mat er best når den er nylaget. Mange matpakker ender opp i søpla etter mange timer i en klam skolesekk.
I Norge kastes det rundt 350 000 tonn fullt brukbar mat hvert år, en unødvendig belastning for både lommebok og miljø.
En politisk het potet
Mange, også politiske partier, begynner å få opp øynene for fordelene med skolemat, både med tanke på sosial utjevning, læring, matkultur og helse. Hvis ting går i riktig retning kan vi innen noen år ha en nasjonal skolematordning på plass. Spørsmålet blir da hvordan denne ordningen skal se ut?
Vi ser på det som en herlig utmaning å utforme et bærekraftig skolematsystem som kan konkurrere med de store, kommersielle aktørene både på pris, brukervennlighet og næringsinnhold den dag statlige bevilgninger drypper ned på kommunene. Ordningen vil knytte næringsliv og kommune sammen i en felles innsats for å nå FN-s bærekraftmål, og samtidig være med på å oppdra en generasjon bevisste forbrukere.