Sustainable delivery, haulage, moving and goods transportation services
Umeå, Västerbotten, Sweden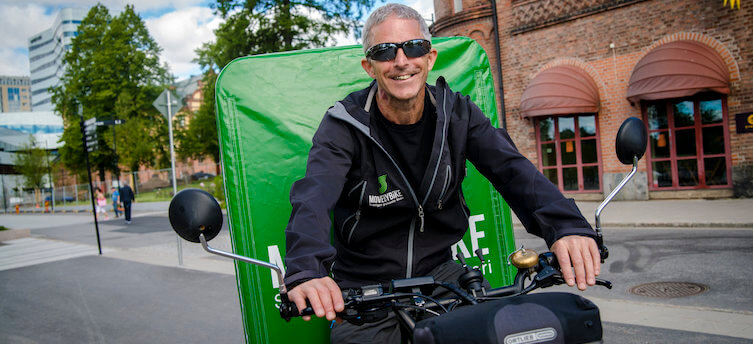 Type:
B2B - Business to Business
B2C - Business to Consumer
SOCIETAL READINESS LEVEL & POTENTIAL
Scaleable
Replicable
Networkable
| | | |
| --- | --- | --- |
| Start in Umeå | 06/2016 | |
CONCEPT:
Sustainable delivery, haulage, moving and goods transportation services
Cykelåkeriet offers carbon free delivery and haulage services by e-cargo bike in the urban Umeå area. We started in the summer of 2016 as a MOVEBYBiKE franchise. In late 2020 we became independent and changed our name to Cykelåkeriet (roughly "The Bicycle Haulage Company"), with the slogan Hållbara bud och transporter ("Sustainable Delivery and Transport"). New website and social media accounts are in the works.
The transport of goods by cargo bike is a prerequisite for a circular economy, and cycle logistics is a rapidly growing branch in Europe and the rest of the world. The EU project Cycle Logistics 1 (2011-2014) published a Baseline Study which showed that 51% of all private and commercial motorised goods transports could be done by cargo bike.
The Cycle Logistics project used the TEMS database, to which the Swedish municipality of Umeå also supplies data. Based on an urban Umeå population of around 80,000 people in 2017, 51% corresponds to about 28,000 private and commercial goods transport daily, which could be shifted to cargo bike. Often less expensively and faster, always more sustainably than motorised alternatives.
In reality the figure is certainly much higher today, due to a number of factors:
Umeå's population is growing steadily.
E-commerce has exploded since the Baseline Study was published in February 2014.
The Baseline Study is based on loads of up to 200 kg and max 7 km (p. 11), while modern cargo bikes such as Cykelåkeriets Musketier from Radkutsche can haul as much as 300 kg and cover much longer distances.
To be truly sustainable and circular, modern cities need to become bicycle cities. A prerequisite is a focused investment in cycle logistics.
At present Cykelåkeriet has the only large cargo bike north of Uppsala. The potential – and the challenges – are almost endless.
LOCAL LANGUAGE DESCRIPTION:
Svenska
Cykelåkeriet erbjuder hållbara bud och godstransporter inom Umeå tätort, med en stor el-assisterad lastcykel. Verksamheten började sommaren 2016 som en franchise under MOVEBYBiKE. Hösten 2020 blev vi fristående och bytte namn till Cykelåkeriet, med devisen "Hållbara bud och transporter". Vi håller gradvis på att starta upp en egen hemsida och konton på Facebook och Instagram.
Cykellogistik är en växande bransch i Europa och världen och godstransporter med lastcykel är en förutsättning för den cirkulära ekonomin. EU-projektet Cycle Logistics 1 (2011-2014) visade i analysen Baseline study att hela 51% av alla privata och yrkesmässiga motoriserade godstransporter skulle kunna ske med lastcykel. Sammanfattat på svenska här.
Umeå kommun var med i TEMS-underlaget för Baseline Study. Vid en grov uppskattning 2017 utifrån en tätortsbefolkning på 80.000 personer motsvarar siffran 51% drygt 28.000 dagliga privata och kommersiella godsresor i Umeå tätort som lika gärna skulle kunna ske med lastcykel. Oftast billigare och snabbare, alltid maximalt miljövänligt.
I själva verket torde siffran vara mycket högre idag pga flera faktorer:
Umeå befolkning växer kraftigt.
E-handeln har vuxit lavinartat sedan Baseline Study publicerades februari 2014.
Baseline Study utgår ifrån en maxlast på 200 kg inom ett 7km avstånd (s. 11), samtidigt som Cykelåkeriets stora lastcykel från Radkutsche klarar 300 kg och mycket längre avstånd.
Ingen stad kan vara hållbar utan att vara en cykelstad. Och ingen stad kan vara en cykelstad utan en målmedveten satsning på cykellogistik.
Idag har Cykelåkeriet den enda stora lastcykeln norr om Uppsala. Möjligheterna – och utmaningarna – är således närmast oändliga.
MATERIALS & CERTIFICATIONS
| | |
| --- | --- |
| | |
| | |
| --- | --- |
| | |
| | | | |
| --- | --- | --- | --- |
| | | | |
CASE STUDY MAPPING SOURCE:
CIRCULAR INITIATIVE
CASE STUDY