Circular Procurement Toolbox
Toolbox for Circular Public Procurement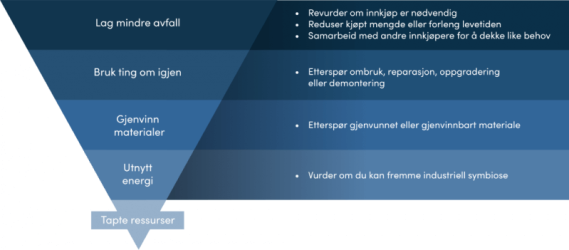 ENVIRONMENTAL:
Increased resource utilisation
Preserving Natural Capital - stocks & flows of energy and material
Reduced emissions
Reduced waste
ECONOMIC:
Increased value creation
New markets
Reduced spending
Stimulating innovation
LOCATION CONTEXT:
not applicable
LEVEL:
Macro - Cities, Regions, Nations, Micro - Company/Organisation
STAKEHOLDERS:
Public Sector
BUSINESS MODEL:
G2B - Government to Business
| | | |
| --- | --- | --- |
| ie.start date | | |
TITLE:
Circular Procurement
CONCEPT:
Toolbox for Circular Public Procurement
Procurement can contribute to a more circular economy locally, nationally and globally.
It is public procurement of goods, services or development projects that stimulates energy and material efficient value chains with the most closed material cycles possible, in parallel with minimizing negative environmental impact and waste throughout the life cycle.
Circular procurement promotes circular economy.
Utilizing resources efficiently is the essence of a good economy. Circular economy is about moving from a linear economy where we extract resources, produce, consume, and throw to an economy where we manage the resources in such a way that we prevent waste from occurring. It is about managing and utilizing our resources in such a way that they give society the highest possible value and benefit for as long as possible, through increased service life, reuse and recycling of resources. Municipalities and companies that focus on resource efficiency can achieve direct and indirect cost savings, new sources of income and a better reputation. Circular economy is nothing new, but has received increased international attention and interest in recent years.
LOCAL LANGUAGE DESCRIPTION:
Norsk
Verktøykasse for sirkulære anskaffelser
Tenk strategisk om behov! Forsikre deg om at du har forankring for sirkulære anskaffelser hos ledelsen og/eller i virksomhetens mål.
Hva er sirkulære anskaffelser?
Det er offentlige anskaffelser av varer, tjenester eller utviklingsprosjekter som stimulerer til energi- og materialeffektive verdikjeder med mest mulig lukkede materialkretsløp, parallelt med å minimere negativ miljøpåvirkning og avfall gjennom hele livsløpet.
Sirkulære anskaffelser fremmer sirkulær økonomi.
Å utnytte ressurser effektivt er essensen i god økonomi. Sirkulær økonomi handler om å bevege seg fra en lineær økonomi hvor vi utvinner ressurser, produserer, forbruker, og kaster til en økonomi hvor vi forvalter ressursene på en slik måte at vi forebygger at avfall oppstår. Det handler om å forvalte og utnytte ressursene våre på en slik måte at de gir samfunnet høyest mulig verdi og nytte lengst mulig, gjennom økt levetid, gjenbruk og gjenvinning av ressurser. Kommuner og bedrifter som satser på en ressurseffektivisering kan oppnå direkte og indirekte kostnadsbesparelser, nye inntektskilder og bedre omdømme. Sirkulær økonomi er ikke noe nytt, men har fått økt internasjonal oppmerksomhet og interesse de siste årene.