Botswana Climate Change Network
Strengthening capacity on climate change through research, policy development & implementation and high impact projects
Gaborone, Gaborone, Botswana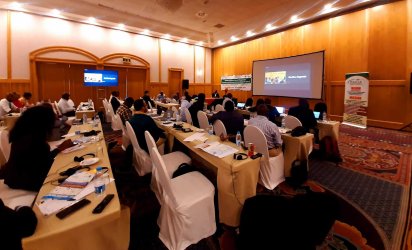 ENVIRONMENTAL:
Environmental awareness
Increased environmental stewardship
ECONOMIC:
Increased value creation
New markets
Stimulating innovation
SOCIAL:
Developing Social Capital in partnership with others (ie families, communities, businesses, trade unions, educational, voluntary organisations)
Increased contacts among people
Increased emergency preparedness
Increased Human Capital - people's health, knowledge, skills and motivation
Increased local pride
Increased local resilience
New community space
FUTURE POTENTIAL:
Replicable, Networkable
FACET
Built Environment, Community, Manufacturing, Procurement, Social Enterprise
LEVEL:
Meso - Network, Cluster & Eco-Industrial Parks
STAKEHOLDERS:
Citizen, Knowledge Sector, Public Sector
BUSINESS MODEL:
B2B - Business to Business, B2G - Business to Government, P2P - Peer to Peer
| | | |
| --- | --- | --- |
| Founded | 01/2011 | |
| 1st Annual General Meeting | 05/2017 | |
| Database set-up | 09/2022 | |
TITLE:
Botswana Climate Change Network
CONCEPT:
Strengthening capacity on climate change through research, policy development & implementation and high impact projects
Mission -To create and strengthen citizen understanding of climate change through communication and demonstration of adaptation and sustainable projects.
Vision – Involve & empower the community to actively participate in the national, regional and global climate agenda.​
Our Work
The Network works sees it imperative to integrate climate change actions into national policies, strategies and planning in an effort to ensure that climate change is fully addressed, and actions respond to globally agreed goals. Botswana Climate Change Network has made strides in setting up itself as a reputable Organization, nationally, regionally and globally. Through its partnership with the Pan Africa Climate Justice Alliance, the Network has managed to interact and create partnerships with United Nations Environment Programme Regional Office for Africa, UN Women Southern Africa, UN Economic Commission (ACPC), United Nations Development Programme (Botswana), and other UN Agencies. The Network also collaborates with international organisations such as Oxfam, International Coal Network, Rural Women Assembly, World Resources Institute among others. These partnerships have seen the acceleration of the Network's engagement in climate change dialogue, and the formulation and implementation of climate change policies including community based activities.
Synergies
Botswana Climate Change Network actively participates in international and regional gatherings such as the Africa Ministerial Conference on Environment, Climate Change and Development in Africa Conference, UNFCCC Conference of Parties, AU Summit, and various climate change intersessional dialogues. In an effort to ensure the realization of the sustainable development goals and the success of the UN Agenda 2030, Botswana Climate Change Network collaborates with partners such as the Botswana Coalition on SDGs, Together 2030, the Government of Botswana and UN Agencies.
LOCAL LANGUAGE DESCRIPTION:
English