Its all-natural compost bin fruit fly and odour eliminator and soil amendment.
Victoria, British Columbia, Canada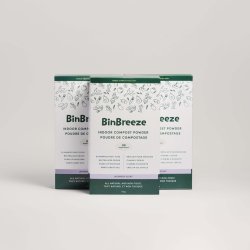 ENVIRONMENTAL:
Environmental awareness
Increased resource utilisation
Preserving Natural Capital - stocks & flows of energy and material
Reduced emissions
Reduced waste
ECONOMIC:
Alternative revenue streams
Increased competitiveness
Increased Manufactured Capital - material goods or fixed assets which contribute to the production process rather than being the output itself
Increased value creation
Job creation
New markets
Stimulating innovation
SOCIAL:
Increased Human Capital - people's health, knowledge, skills and motivation
Increased local pride
Increased quality of life
FUTURE POTENTIAL:
Scaleable, Replicable, Networkable
FACET
Agriculture, Bio-economy, Food & Drink, Manufacturing, Recycling, Waste Management
LEVEL:
Macro - Cities, Regions, Nations, Micro - Company/Organisation
STAKEHOLDERS:
Citizen, Knowledge Sector, Private Sector, Public Sector
BUSINESS MODEL:
B2B - Business to Business, B2C - Business to Consumer
CERTIFICATION:
Life Cycle Analysis, Organic
| | | |
| --- | --- | --- |
| ie.start date | 03/2020 | |
| national distribution | 01/2021 | |
CONCEPT:
Its all-natural compost bin fruit fly and odour eliminator and soil amendment.
For households to have a positive introduction into sustainability practices stress and hassle-free
the negative experiences consumers have with smelly, wet, fruit-fly infested municipal compost programs
A composting powder made from clean bc wood waste that masks odours with a refreshing scent while absorbing excess moisture and killing fruit flies in the decomposition process.
We solve the customers' pain point and barriers to indoor composting.
Be proactive in the sustainability space to create a level of comfort for the consumer where composting effectively and efficiently is common.
LOCAL LANGUAGE DESCRIPTION:
English