An on-demand B2B food delivery app for Retailers with surplus food.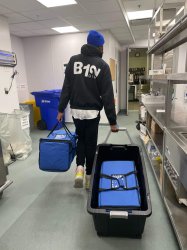 ENVIRONMENTAL:
Environmental awareness
Increased resource utilisation
Reduced emissions
Reduced waste
ECONOMIC:
Increased value creation
Job creation
Reduced economic pressure
Reduced spending
Stimulating innovation
SOCIAL:
Developing Social Capital in partnership with others (ie families, communities, businesses, trade unions, educational, voluntary organisations)
Improved wellbeing
Increased access to services/products
Increased employment
Increased Human Capital - people's health, knowledge, skills and motivation
Increased inclusion
Increased local resilience
Increased quality of life
Reduced gender inequalities
Reduced social pressure
FUTURE POTENTIAL:
Scaleable, Replicable, Networkable
FACET
Community, Food & Drink, Logistics, Material Flows, Recycling, Social Enterprise, Supply Chain, Waste Management
LEVEL:
Micro - Company/Organisation, Nano - User, Product, Component & Material
STAKEHOLDERS:
Citizen, Knowledge Sector, Private Sector, Public Sector, Third Sector
BUSINESS MODEL:
B2B - Business to Business
| | | |
| --- | --- | --- |
| App Upgrade | 02/2023 | |
| App Launch | 02/2021 | |
CONCEPT:
An on-demand B2B food delivery app for Retailers with surplus food.
Powered by technology and logistics we redistribute surplus food with a shelf life of less than 48 hours to food insecure communities within 2-hours of receipt. Our circular food economy helps food Retailers eliminate 100% of surplus food from their daily operations at the end of the day. 
We operate like UberEats executing multiple redistribution cycles guaranteeing all food collected is redistributed same-day to an end user. We do this at a cost to Retailers of $1 per lb including packaging or $.50 per lb without; deliverables include login access, same day pickups and daily impact tracking. Orders are optimized in-app based on location and closing time to ensure we're able to deliver on our promise of adhering to provincial food safety guidelines. www.b12give.ca
LOCAL LANGUAGE DESCRIPTION:
English